We like to publish specialist books and pamphlets written by members. Below are the titles currently available. If you would like to buy a copy and do not live locally you can order it online by sending an email to [email protected]. Your email will be acknowledged and arrangements agreed to post the book to you, within the UK or overseas. Payment for UK orders can be made online or by cheque, for overseas orders only can be made through PayPal's billing system. Profits from sales are put back into the SLHS Publications Account, ready for the next local history author to come along with a good idea.
Society Members' Publications: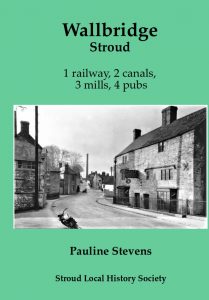 May 2022: Wallbridge – 1 railway, 2 canals, 3 mills, 4 pubs by Pauline Stevens Price £12
On sale at Stroud Bookshop, R&R Books, Museum in the Park and Canal Visitor Centre at Wallbridge
When we think of Wallbridge, we might see a small stretch of road, a lock, and a few businesses but in her new book Pauline Stevens has captured a Wallbridge of old, a busy, noisy, probably smelly, and vibrant hamlet, where goods were created and sold and shipped, fortunes were made and lost, and families lived and socialised. Both the rise and demise of Wallbridge were driven by its transport links, the canal and the railway bringing opportunity, and the increasing use of motor transport leading to the demolition of old routes and buildings.
Long before the canal, this was an important site of a mill, and a bridge here over the River Frome can be dated to c1527. Many people will be familiar with the 1870 painting hanging in the Museum in the Park showing a Wallbridge that is almost unrecognisable, and this volume with its fabulous photos and helpful maps probes even further back to explain its evolution. Thankfully a few treasures were saved from destruction and pictures of some artifacts now at Stroud's museum are shown. Canal records found at Bankfield House, the former headquarters of the Stroudwater Canal Company, have provided a wealth of information.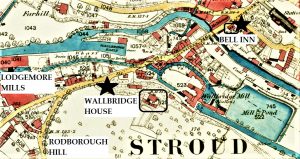 An enormous amount of research has gone into this story of a place where time never stood still. The families that lived in Wallbridge are chronicled. The fortunes of people who worked on the canal, the inn keepers of four pubs, bakers, blacksmiths, shopkeepers, coal merchants, mill owners and many more, are recounted. The history of gardens and buildings; from homes, cloth mills, inns, brewhouses, stables, a bakery and a mustard mill are covered in detail. Amongst all this Wallbridge saw sporting activity, with swimming, water polo and skating in the canal basins, and the Stroud Rugby Club headquarters was housed over time in two of its pubs.
The book is an enjoyable and informative read from cover to cover, the photos alone are a revelation, and it is equally useful, and well indexed, to dip into as a reference volume. I certainly won't walk through Wallbridge again without imagining its significant past and remembering a tale or two.
Book review of "Wallbridge" by Julie Mountain (Remembering Rodborough)
There are more photographs of Wallbridge Mill in 1961 on this page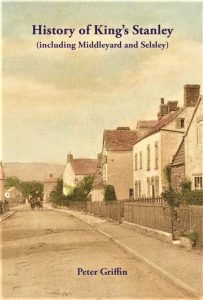 March 2021: History of King's Stanley by Peter Griffin Price £15
This new History of King's Stanley, which also covers Middleyard and Selsley, is the result of decades of meticulous research.
The 400-page volume is an in-depth account of life in the village from pre-historic times to the present day.
It includes chapters on Roman evidence; the Anglo-Saxon and Medieval periods; Manor and Borough; agriculture; the cloth industry; religion; the Parish Vestry and Parish Council; population and welfare; education; law and order; politics and the military; and social life.
The book contains 69 black and white illustrations, a two-page map of the parish, and a comprehensive index.
Available from Stroud Bookshop or from www.historyofkingsstanley.org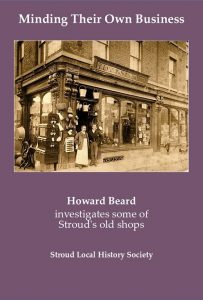 2020: Minding Their Own Business by Howard Beard Price £10
In his new book, Howard Beard looks closely at some of the shops in Stroud's town centre and the families who ran them over a century ago – some for several generations and at least one that is still trading. With his usual story-telling skill, and using ephemera and images from his large collections (most of which have not appeared in any earlier books), Howard has discovered some surprising details, and connections between families who supplied Stroud with its everyday necessities and elegant clothes – including eleven firms run by his own relations. This book is an unexpected outcome of the 2020 lockdown, which gave Howard Beard and his editor Marion Hearfield the time to assemble a delightful collection of unfamiliar photographs of Stroud's shops and their owners, and do a bit of digging into their families' origins. The book is on sale for £10 in local bookshops, or online from
[email protected] (payment online, UK P&P charged at cost)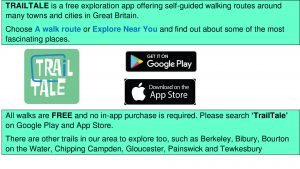 2019: Stroud Town Trail on-line, by SLHS – Free
FREE on-line version for smartphones and tablet computers – download the free TrailTale app, choose a walk and off you go.
(Click picture to enlarge)
Or go on a virtual tour at home – there are pictures of each point of interest.
2019, updated 2022: Stroud Town Trail by SLHS Price £2.50

This pocket-sized guide (24pp) takes you round the town centre and describes the history of the buildings that you pass. It has been written to interest local people as well as visitors. The circular tour takes about two hours and, if you are local, you can do a bit at a time!
Copies are on sale at R&R Books, Shambles Indoor market and the Canal Visitor Centre at Wallbridge.
Or you can get a copy posted by sending an enquiry to our [email protected] email address. (UK P&P charged at cost)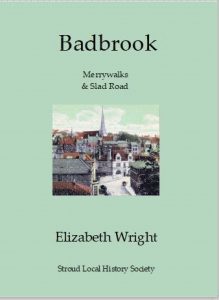 2019: Badbrook, Merrywalks and Slad Road
by Elizabeth Wright Price £13.50
Copies will be available for purchase at SLHS meetings, or can be ordered from [email protected] (payment online; P&P charged at cost).
This book began with a curiosity about Stroud Public Baths on Bath Street, long gone, and expanded to cover the whole area of Badbrook and beyond. From humble beginnings, Badbrook acquired some fine public and private buildings. Merrywalks developed from a footpath to a main road with a bus station, Slad road businesses and new housing flourished, and then the whole area was threatened with annihilation beneath a proposed ring road. The history is punctuated with stories of strange behaviour, bankruptcies and terrible fires, and the all-pervading nastiness of that Bad Brook.
"Badbrook is Stroud's starting point for Gloucester and – at the lowest part of the town – was the site of a 17thC water-powered mill. Liz included the adjoining Slad Road and Merrywalks in her area of research and set about finding everything she could from local newspapers, the county archives, the town's museum, local authors, and conversations. The result is a thoroughly documented, indexed and illustrated account of Badbrook's businesses and institutions, inhabitants and characters. Starting with the 1750s Liz carefully builds layers of information as the decades and centuries pass, stepping in easy stages so the reader always knows what was happening, where, and why. Maps, diagrams and photographs help us keep track of the changes up to modern times. Over the centuries shops and small businesses thrived, faded, vanished then popped up again with new purpose. The mill site is now a multi-story car park; a shopping centre and cinema cover the millpond and Victorian public baths, the armoury, the Volunteer Riflemen's drill ground and the bus station … This satisfying book is an excellent example of serious research presented as an easy read and a source of reference for residents and researchers alike." Marion Hearfield
2018 July: Stratford Park and its Mansion House by Marion Hearfield Price £12
Published jointly by Stroud Local History Society and the Friends of the Museum in the Park. On sale at the Museum and in local shops. Copies can be ordered through the SLHS website: email [email protected] (payment online, P&P charged at cost). SLHS members are offered the book at a special price – please ask at any of our meetings.
After four hundred years of private ownership the Stratford estate was sold at a generously low price to Stroud District Council in 1935. This new book, based on ancient documents and paintings and modern archives, with 150 photographs and maps, describes the estate's early owners and the people who have lived or worked there.
"To write a history of Stratford Park and its Mansion House is a daunting task. To make such a work accurate, comprehensive and interesting is a great achievement and that is what Marion Hearfield has done in her latest book" (Extract from a review by Juliet Shipman, Chair of Stroud Civic Society). There is more information about the book on our Stratford Park page
2017 July: 'Then and Now' cards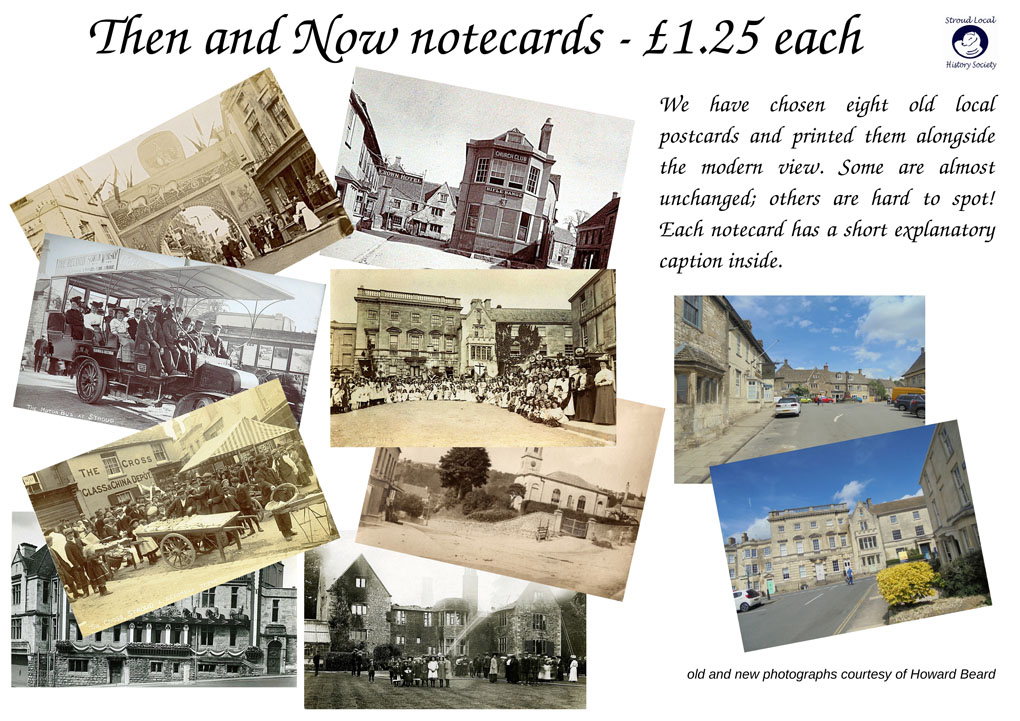 On sale at our exhibitions, or email [email protected]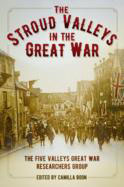 2017: The Stroud Valleys in the Great War – by a collaboration of local history societies. Price £13 STOCK IS NOW VERY LOW

"This welcome new addition to the library of books dealing with the local history of the Stroud area is meticulously researched, informative and often – perhaps surprisingly – quite amusing. It summarises the investigations of groups and individuals involved in studying the story of the First World War in Stroud, Rodborough, Minchinhampton, Woodchester, Stonehouse, Brimscombe, Chalford, France Lynch and Bussage. In addition, it is enhanced by introductory and concluding chapters from distinguished journalist Peter Evans, born locally and former leader writer for The Times.
"Some contributions to the book deal in detail with the history of individual combatants in the First World War, others record more about how the conflict affected local people. Fund-raising events, the work of volunteer groups and the use of women to fill employment gaps caused by the conscription of so many men, are just a few of the subjects covered.
"Four chapters concern single topics: Paul Bennett's VC, Minchinhampton Aerodrome, Woodchester Wayside Cross and the Cole brothers of Brimscombe. Other sections tell of the impact – and unintended consequences – the war had on parishes and individuals. Stories included describe Stroud's intriguingly named '1917 Patriotic Economy Exhibition', Rodborough's unique 'fruit evaporator', Minchinhampton's tragic double suicide, the mirror and Bible that saved the life of a Chalford soldier, a Woodchester hen that laid a 6 ounce egg with three yolks and how a Stonehouse soldier survived a torpedo attack.
"All this, and a great deal more, makes 'The Stroud Valleys in the Great War' a compulsive read for all those interested in how local communities endured and survived the 'War to end wars'"
– review by Howard Beard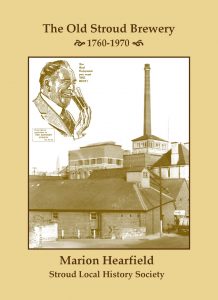 2016 (July) The Old Stroud Brewery by Marion Hearfield Price £7.50
published by Stroud Local History Society 2016
"This is the history of the Brewery at Rowcroft, from its beginnings in Middle Lypiatt in the mid 1760s to its demise in 1970. All those interested in brewing history will value this book for its insight, not only into the brewing process, but also into the laws which governed breweries and pubs over the years. Those who like to explore Stroud history will value the fascinating collection of old map extracts and of rarely-seen photographs. The book is the result of meticulous research and includes sections on artefacts, the sign artists, and Brewery waggons. Interviews with former workers have added much to the story, from anecdotes and explanations to the helpful labelling of photos of the old buildings. And you can learn about the lengths (literally) to which Victorian engineers would go to create an extra water supply." review by LW.
Copies can be ordered through the SLHS website: email [email protected] (payment online; P&P charged at cost). SLHS members are offered the book at a special price – please ask at any of our meetings. Also on sale at R&R Books, Stroud Town Council Office, Canal Visitor Centre at Wallbridge.
2016 Stroud History Tour, by Howard Beard
– from book shops and Museum in the Park – see Stroud as it used to be – from your armchair, or take it into Stroud and compare then with now
2015 (Mar) Stroud Subscription Rooms, by Marion Hearfield Price £5
The story of the founding, funding and first 120 years of Stroud's Subscription Rooms
Copies can be ordered through the SLHS website: email [email protected] (payment online, P&P charged at cost). SLHS members are offered the book at a special price – please ask at any of our meetings.
The church by Stroud Hospital – The story of Holy Trinity, Stroud, by Philip Walmsley
2014 (Nov) Part 1: Victorian Vision (1839 – 1939) Price £5
2017 Part 2: Into the Millennium (1939-2012) Price £5
Read how a lively and caring community grew around a new church, built in the fields at the Top of Town in 1839… The book tells how the town grew rapidly in the nineteenth century, with a need for more seats than were available for mill and factory workers in Stroud parish church.
Copies can be ordered through the SLHS website: email [email protected] (payment online or by cheque – £5 + P&P charged at cost)

2014 Guide to the War Memorials of Stroud and the Five Valleys by Stuart Butler Price £2.50 MAY NOW BE OUT OF PRINT

Available at R and R Books, Nelson St Stroud; Stroud Bookshop; Stroud Valleys Project; Made in Stroud; Stroud Museum; the Regimental Museum in Gloucester.
2014 Dulcia Villas Stroud – growing up in a house of joy by Diana Webb Price £2.50
SORRY THIS IS NOW OUT OF PRINT
2013 William Cowle of Stroud – Life in a Victorian Town by Marion Hearfield Price £12
You can find out more about the book, and William Cowle, on Marion's own website
Copies can be ordered through the SLHS website: email [email protected] (payment online, P&P charged at cost). SLHS members are offered the book at a special price – please ask at any of our meetings.
2006 The Turbulent History of a Cotswold Valley by Pat Hopf Price £16
Fifty years ago, Pat Hopf and her family moved to live at The Scrubs. This book is the consequence of an agricultural economist (Pat) walking the paths, poking about, talking to neighbours, and researching the long and varied history of this small valley between Bisley and Slad.
A lot happened in the last ten centuries of this quiet valley, with its mills and farms. Pat's well-indexed and illustrated book describes each era, and tells of 18thC Squire Townsend at Steanbridge House (and its mills), and the buildings, families and occupations of the valley.
She writes about dozens of buildings including August Cottage and Mullions (and the holidaying Bishop), Detcombe, Dillay Bottom, Down Court and Farm, Driftcombe, Greencourt, Highwood, the Old Ale House, the Roman Bridge (and Roman gods), Scrubs Bottom, Shepherd's cottage, Snows Farm, St Benedict's, Sydenhams (and its deserted mediaeval village), the Primitive Methodist Chapel, Timbercombe, Trillgate, Stonedge and Woodedge, and a brief diversion to The Vatch mills – a proper local history book.
Copies can be ordered through the SLHS website: [email protected]
2003 Stroud versus Slavery by Philip Walmsley and Stroud Local History Society
This book is no longer in print, but we can offer free access to a digital version here: online copy for use by personal researchers. Our copyright rules still apply.
1995 The Railway Comes to Stroud 1845 by Stroud Local History Society Price £2
Copies can be ordered through the SLHS website: [email protected]
contains a list of local books – some now out of print – that you might find helpful when researching Stroud and its surrounding area. Those that are in the SLHS Research Archive are marked with a catalogue number