a research resource from Stroud Local History Society
Research note by Marion Hearfield                           Copyright
DANECOURT SCHOOL, Chestnut Hill, Nailsworth, May 1917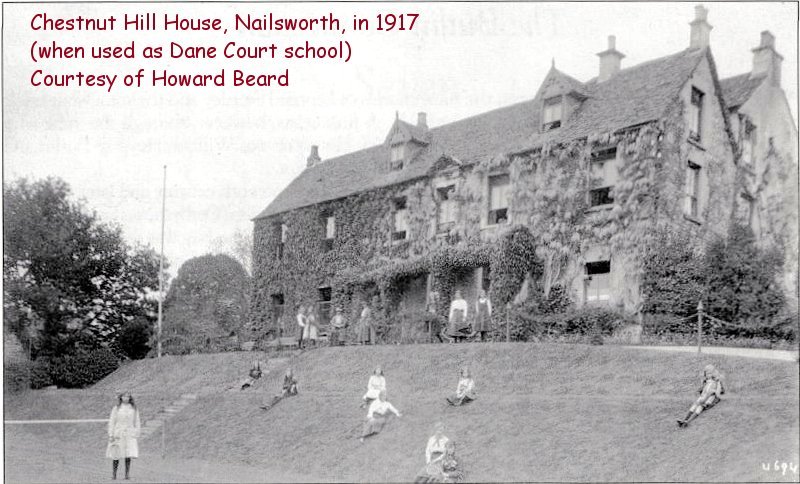 This single list was written in an album that had been given to William Clissold of Chestnut Hill, in 1898. There are other, disconnected lists:
• the signatures of the men who presented William Clissold with the original Illuminated Address;
• several pages of names of soldiers treated at Chestnut Hill when it was a Red Cross hospital in 1914-16,
• Reversing the album, are 14 pages in two different handwritings of poems / notes by G S H C – Sarah H CHEPSTOW (and school work?, at Roedean School) written between 1897 and 1905 at Chestnut Hill.
These are available to view at Clissolds of Chestnut Hill, Nailsworth – this link opens a separate window in our on-line cloud storage server. There is a photograph of Danecourt School, and information about the WW1 Red Cross hospital.
The complete book is in Howard Beard's ephemera collection.
This transcript was made by Marion Hearfield, Sept 2014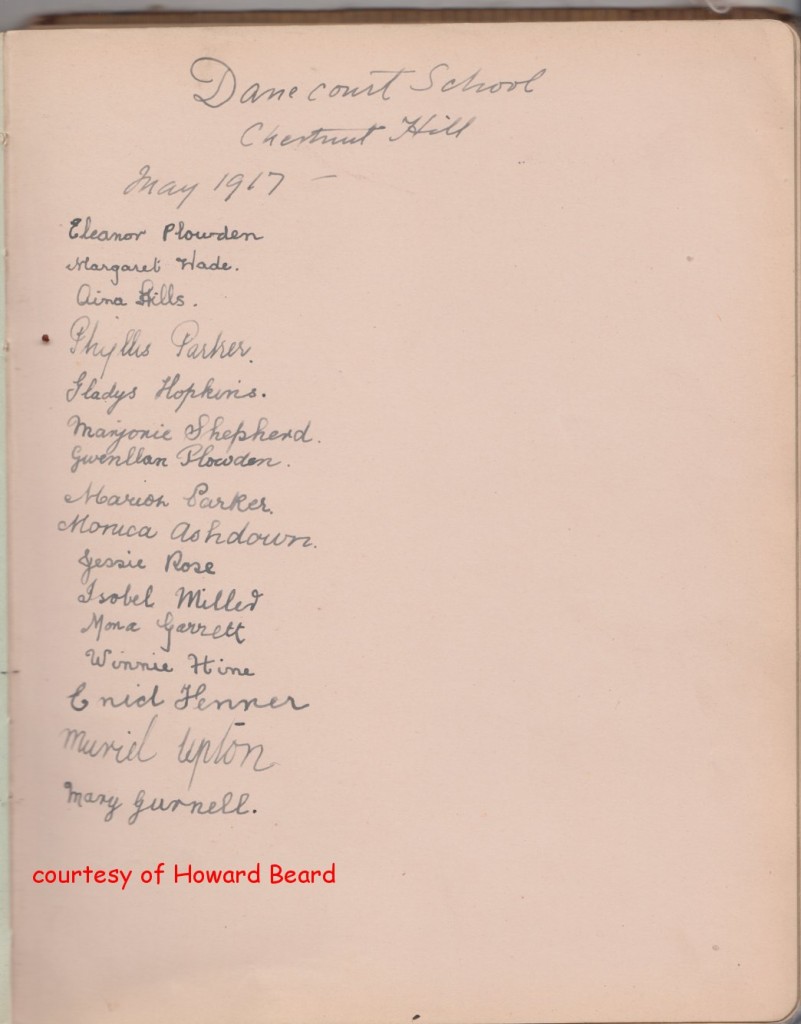 All the names here seem to have been written by the girls themselves, since the handwriting is different:
Eleanor PLOWDEN
Margaret WADE
Aina HILLS [?]
Phillis PARKER
Gladys HOPKINS
Marjorie SHEPHERD
Gwenllan PLOWDEN
Marion PARKER
Monica ASHDOWN
Jessie ROSE
Isobel MILLER
Mona GARRETT
Willie HINE
Enit HENNER
Muriel UPTON
Mary GURNELL
Where was Danecourt?
In Howard Beard's book Around Stroud, in the story of Miss Willoughby, Danecourt School is identified as being at Chestnut Hill House in 1917.
A research note from the SLHS digital archive added May 2015.         Copyright