New streets in Stroud in the early 1800s, and how they were named
More Stroud streets and the origins of their names
Stroud Street Names – Display at our Summer Exhibition in the Museum in the Park, July 2015
This information was arranged geographically – click to enlarge pictures
Display by Pauline Stevens
New streets in Stroud in the early 1800s, and how they were named
a research resource from Stroud Local History Society Copyright

Research note by Pauline Stevens and Marion Hearfield
When Charles Baker drew his parish map in 1820, the town centre looked like this (the original huge map is owned by St Laurence church and stored in Glos Archives):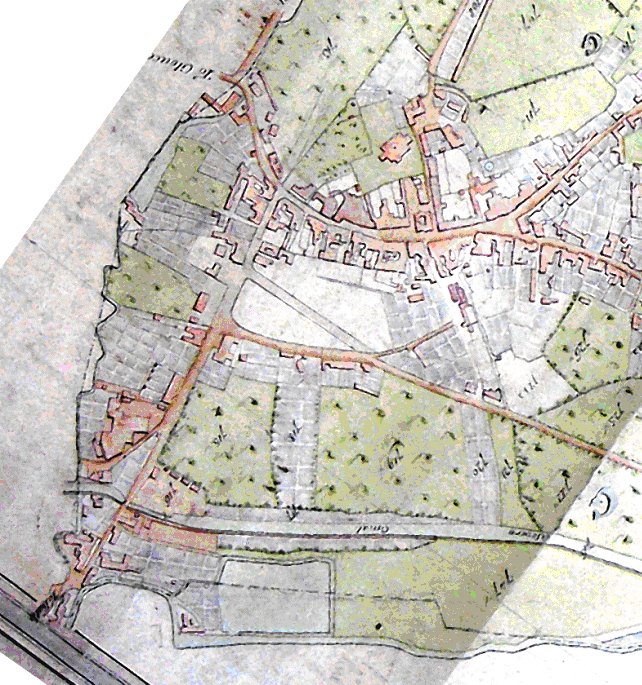 The Borough of Stroud was constituted in 1832 with two Members of Parliament, as a direct consequence of Lord John Russell's successful Reform Act that extended the vote to a wider range of citizens.
Lord John Russell, a son of the Duke of Bedford, had been in Parliament since 1813, and in 1834 was a member of the government. He was unsuccessful in Devon in the January 1835 election, so the newly elected Stroud MP, Colonel Fox, resigned and Lord John Russell became one of Stroud's MPs until 1841. He later became Prime Minister twice: 1846-52 and 1865-66. He is remembered in Stroud by the three streets that were named in his honour – John, Russell and Bedford Streets. Also, Brewer Joseph Watts renamed his High Street pub – then just opposite the entrance to Bedford Street – from the Marlborough Arms to the Bedford Arms.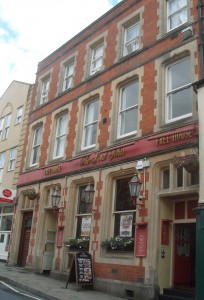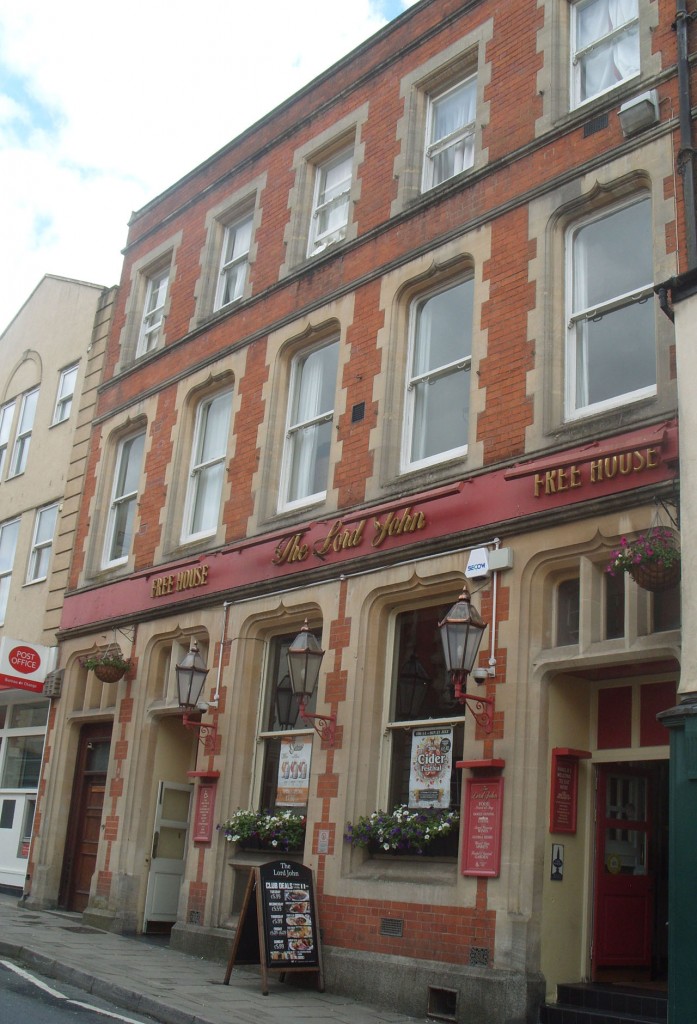 Mr Scrope was the other MP for Stroud at the same time, and for much longer (1833 to 1867), but leaves no such reminder.
John Street was a former private road/public footpath.
Russell Street, was formed from a public footpath after the new London Rd was built in 1814.
Bedford Street, former private passage from the High St, was initially called Union St.
The Union Chapel was built 1835-7. The name of the chapel was changed to Bedford St Chapel when the street name was changed to Bedford Street. The chapel's story is told in 'They Met in a Barn', by Molly and Alfred Hoy.
George Street – shown as a path across open fields on Baker's 1820 map – was Great George St in 1826. The named derived from the Royal George Hotel, at the end of King St (see later).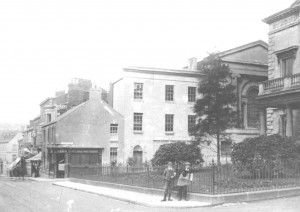 The land around the Subscription Rooms was originally Kendrick's Orchard – in the title deeds for the Rooms it is called Burroughs Leaze. The orchard was sold in 1829 and on it were built the Subscription Rooms (1834), the Casualty Hospital (1835) and the Bedford Street chapel (1835). The fourth (uphill) side of the square was used as a garden by the Subscription Rooms until John Libby built his Cloth Hall. The Dispensary had already been built in 1823, on the corner of George St and Bedford St on land bought from Kendrick's Orchard (more information here).
Kendrick Street – new in 1872 on the site of Kendrick's Orchard, when the Holloway Brothers expanded their Threadneedle Street factory site for offices and warehouse storage. A house, which had belonged to John Miles a watchmaker, had to be taken down to make the entrance into the High Street. It had a clock (1744) that is now on the former National School in Castle Street (1844), and the building is still known to many as the Black Boy. He was originally an advert for tobacco, and has a skirt of tobacco leaves
By 1835, George Street had been developed. Here is a detail from a map drawn in 1835 by John Wood for the Proprietors of the Stroudwater Navigation: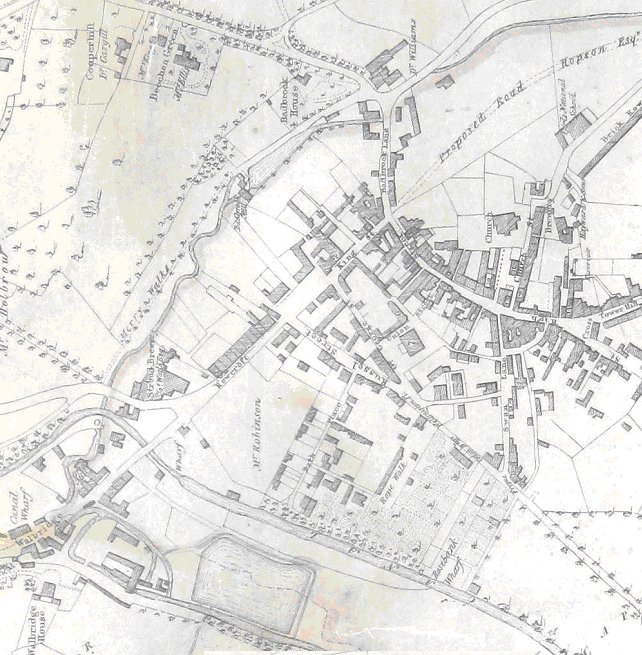 King Street was named in honour of a visit by King George III in 1788.
The King's Arms Inn was on the corner of Kings St, from 1801 to 1819. It was rebuilt by Thomas Wall, who moved his business from The George Inn (see below) in the High St, and it was renamed The Royal George Hotel, with its frontage facing down Rowcroft. For twenty years it was the home of the Stroud Freemasons. The hotel closed in 1916 and part of it became the Picture House cinema, with Hepworth's tailors on the ground floor. It was rebuilt in the 1930s, by Burtons, and is now Savers.
The current Union Street was originally a continuation of Swan Lane (also called Back Lane at the time) to Capel's orchard. In about 1813, Thomas Wall purchased The George Inn, in the High St, which had been for many years the principal hostelry in the town, where meetings, balls, assemblies and public and private gatherings were held. With the opening of the new London Rd in 1814 and the town's development, he decided to move his business. Having rebuilt The Kings Arms and renamed it the Royal George Hotel, Thomas Wall moved his business from the old George Inn, High St, to The Royal George Hotel, in 1819. The Old George's chamber and assembly room over its gateways were removed, the closed stable yard was opened up and Union St was formed, from the High St on the opposite side from The Shambles, to the new London Rd.
The current Swan Inn occupies part of the site of the old George and its stables. It takes its name from Swan Lane, which originally referred to an old Swan Inn in the High St, with its stables behind. By 1871 it had been changed into a shop and house.
On entering Union St from the High St you can see on the right, a blocked up arch which formerly led to the bar and front parlour of the old George Inn.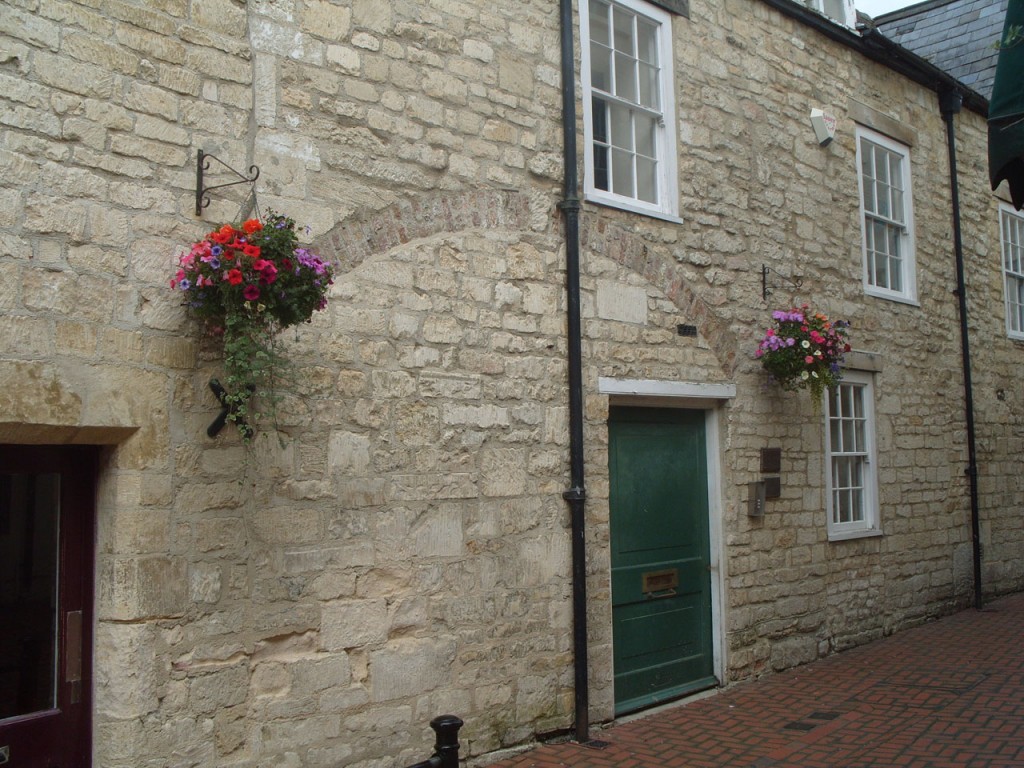 Lansdown (named after the fashionable area in Bath) was created by Dr Paine, who had inherited the land. It began as the drive to the new vicarage, built in 1837, and is shown as a proposed road on the 1835 map. However in PH Fisher's Notes of 1871, it turned down what is now Locking Hill, to meet the Slad Rd, and became a public road. Soon after this it was extended and grand buildings and houses with decorous frontages were built. The library (opened in 1968) is on the site of the vicarage. The School of Science & Art was built in 1890-99
House numbering
Anyone looking for an address in the town centre needs to know that although the level streets (King St, Kendrick St) are now numbered conventionally, with odd numbers on one side and even numbers on the other, the up-down streets (High Street, George Street, Russell Street, London Road) are numbered up one side and down the other. The High Street house numbers 35-43 (at the top) and London Road 19-29 (past the London Road hotel) have been demolished. This up-one-side down-the-other numbering scheme continues up the old roads of Nelson Street, Middle Street and Lower Street.
There is much more information about Stroud's old streets and houses in 'Notes and Recollections of Stroud', written by Paul Hawkins Fisher in 1871. It was reprinted in 1986.
A research note from the SLHS digital archive added March 2015. Copyright

More Stroud streets and the origins of their names
a research resource from Stroud Local History Society Copyright

Research note by Pauline Stevens
How did the streets of Stroud get their names?
Some streets tell you where you are heading or where you have come from, except Bath Street and Stratford Road

Some names describe something

Some tell of what is or used to be there

Some preserve the names of the great and good of Stroud (often land owners), or famous people and events

In the 19th century it was fashionable to name roads after places in London, or Bath

Some origins are a mystery




Langtoft Road – 1967; alternative proposals were Sherwood Drive or Pinehurst Drive – why?
Some streets tell you where you are heading or where you have come from
Bath Road – a new road after the Stroud to Lightpill Turnpike Act 1801; linked Stroud, via Rowcroft and Wallbridge, to LIghtpill; it joined the road from Dudbridge via Lightpill to Nailsworth and on to Bath, which had been built in 1782. A temporary link from the bottom of Rodborough Hill to Lightpill had been made in 1788 for King George III's visit.
Bisley Old Road – The king's highway to Bisley, as it was known in 1606, was turnpiked in 1823. Before the Rodborough Hill turnpike was built in 1752, travellers from Stroud to London often went up to Bisley to join the old Gloucester-Painswick-Bisley-Cirencester road
Bisley Road – new in the 1870s – Cemetery Road on some maps (The Cemetery opened in 1856)
Bowbridge Lane – an ancient way through the Field estate. Bowbridge is mentioned in Bisley Court Rolls in the 14th century. There was a ford before the narrow bow-shaped bridge was built
Cainscross Road – a new road in 1825. Previously Stratford Rd + Paganhill Lane was the route from Stroud to Cainscross. In 1825 a new road was formed from bits of old tracks, to make a more direct route.
Dudbridge Road 1780, Dudbridge Hill (ancient route) and Bridge St lead to Dudbridge, where there has been a bridge over the River Frome and a mill since at least the late 12th century. Dudbridge was the crossing point on the river Frome where ancient tracks met from
Bisley, via Stroud and Paganhill
Gloucester/River Severn, via Paganhill
Selsley, from either Woodchester, Nailsworth and Bath, or Dursley
Rodborough, Cirencester and London
Dud comes from Old English and means to walk slowly/unsteadily. Redlers redbrick building is on the site of the 12th century Dodebrigge Mill.
Gloucester St – Formerly called Badbrook Lane which crossed Slade Brook by a ford, with stepping stones for foot passengers. A narrow stone bridge was built in 1784 for carriages, and later a narrow wooden bridge with a single handrail superseded the stepping stones. The ford was 7 feet lower than the road today, so Badbrook Lane was much steeper than Gloucester St is now. Sebastian Stewart Dickenson built the whole of the west side and renamed it Gloucester St, replacing The Chequers Inn and some cottages on the corner of King St, c.1867. The east side had a make-over about 1905.
The name Badbrook comes from it being a bad brook to cross, due to the steepness down and up to. Badbrook house was demolished to allow for road widening.
Beeches Green – formerly Beech Ash Green. It is Meachs Green on Isaac Taylor's 1800 map. When the road was turnpiked (after 1817), the new road was cut about 13 feet below the level of the old route. Fisher tells of Daniel Clift, a Stroud and Gloucester carrier, when returning home at night, fell with his horse and cart, from the old road into the deep cutting intended for the new one, and was killed.
Horns Rd was originally a path across The Field Estate to the Horn's valley. It became a road in 1870s/80s.
Kingscourt Lane – goes to the area where the Kinnes family were connected from 1463. Kynnesby, is a house on Bowl Hill, Kingscourt
London Rd – a new toll road in 1814, started overnight without all the landowners permission. Previously the route to Chalford was: Nelson St; Castle St; Lower St; Bowbridge Lane down to Bowbridge, up Gunhouse Lane to Thrupp hamlet; Thrupp Lane and Bourne Lane through Far Thrupp, Bourne, and Blackness, and down to Chalford – it would have taken a horse and cart all day, but it is only 4 miles 'as the crow flies'.
Paganhill Lane – part of the ancient way from Dudbridge to Stroud. Paganhill has been Paggenhull, Pakynhyll, Pakenhill and Pagenhall, and was originally a tithing of Stroud.
Painswick Old Rd and Wick St – The old way to Painswick (and then Gloucester) turnpiked in 1726. However wheeled traffic usually went to Gloucester by way of Paganhill, Cainscross and Stonehouse, because that route was less steep than Wick St.
Painswick Rd. The new Stroud – Pitchcombe – Horsepools – Gloucester road was built in 1818, with the link from Pitchcombe to Painswick in 1819 and on to Cheltenham in 1820.
The earliest route from Painswick to Stroud followed the road to Bisley as far as Bull's Cross and then joined an ancient ridgeway over the summit of Wickridge Hill to Stroud (presumably down Folly Lane to Beeches Green).
Painswick – the Domesday Book records the village of Wyke, and Pain FitzJohn was lord of the manor 1121 to 1137
Rodborough Hill – new turnpike road 1752. Previously the route was from Rodborough down to Dudbridge, then Cainscross, Paganhill, Stratford Rd to Stroud. Rodborough – named from an Iron Age earthwork on the common, was recorded in the 8th Century; until 1936 the parish of Rodborough lay between the River Frome and the Nailsworth stream, which meet at Dudbridge
Slad Lane, the old road to Slad from Summer St, before:
Slad Rd – Turnpike Act 1801. Previously the route to Little Mill (at end of Lansdown) was via High St, Church St and a private road (now Brickrow).
except these do not relate to towns:
Bath St – previously a path from the middle of King Street. The Public Baths was a commodious building, comprising Turkish, swimming and general baths.
Stratford Rd – Old English words 'straet' and 'ford' describe a location where the road crosses a stream. It is an ancient route from Stroud to Paganhill. The name Stratford was first recorded in 1307. Gilbert of Stratford was the family that took their name from the ford on the stream, and a bridge had replaced the ford there by 1522. It was turnpiked in 1726
Some streets have descriptive names
Belle Vue Road was constructed c.1870 on land that had originally belonged to Mr. Joseph Grazebrook. This gentleman had previously owned a private bank next to Stroud Brewery, and built houses at the top and bottom of Rowcroft.
Belmont Road – new in the 1870s, most of the houses were built by Mashiter Wheatley (founder of the family business) on land owned by local solicitor W W Kearsey. P H Fisher says "in 1853, Mr Postlethwaite built a house, which he named Belmont,….The Grecian simplicity of its form, with the colonnade along its western front, gives it an air of magnitude: and its elevated situation, commanding extensive views, makes it a healthful and pleasant summer residence."
Brickrow (previously a continuation of Church Street) – a long terrace of thirty workmen's cottages, early 19th century also built by Mr. Joseph Grazebrook on the Ryeleaze pasture. Later a Holloway's clothing factory was built there, but now there are terraced houses again.
Hilltop Close
Hollow Lane – used to be narrow and deep. Trinity Rd and Hollow Lane were also called Bittern's Ditch
Locking Hill – possibly associated with locking the wheels of carts as it is steep – built 1837 with Lansdown
Merrywalks was just a path in the 1800s – Miry walk – a path in a wet place. Access to the Hill was originally from Beeches Green. Until 1959 it was only the width of one lorry at the viaduct end, so they removed some cottages and part of the malting house.
Pictures from the Stroud News & Journal – click to enlarge
Middle Hill – P H Fisher says it was "the old occupation road that passes up the central ridge to the fields beyond, and was formerly a public footpath towards Fennels and Bisley. It used to start at Nouncells Cross.
Middle St – in 1676 it was a path through Stroud Field
Swift's Hill View
The Circle and The Square – built 1920s – Stroud's very first council houses – on land purchased in 1914, but building was delayed by the war
Union St – see above – New streets in 1800s
Valley View Rd
Westward Rd – west from Cainscross. In 1726 the Stroud Turnpike went from Stroud, via Stratford Rd, Paganhill Lane, Cainscross, Ebley, Stonehouse, Westend and Whitminster, to Framilode Passage
Some tell of what is or used to be there
Acre St – Formerly Acre-edge or Acre Hedgeway and a boundary of the town – originally a footpath down the edge dividing the fields of Seven Acres and Two Acres
All Saints Road – All Saints Church Uplands built 1910, replaced a tin church in Middle St, Uplands, that had been moved from Slad Rd. More information.
Archway Gardens – the memorial arch to the abolition of slavery was the gateway at the end of the drive to Farmhill Park
Bagpath – a pack horse trail – too narrow for wheeled traffic (Lionel Walrond)
Birches Drive – The Birches was home to a number of prominent Stroud people including C.P. Allen MP for Stroud). It became the Cotswold School – a private academy for boys and girls from 1922 to 1960.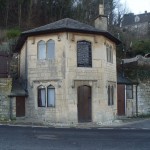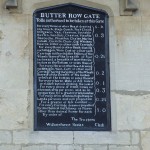 The Butts (Rodborough) and Butterrow (originally Butt-row) relate to butts for archery practice. The settlement Butter Row had begun by 1638. In Henry VIII's time all men had to practice archery. Butterrow Hill was a new turnpike road in 1825, which was less steep than the track straight up the hill from Bowbridge to the road to London across the common
Castle St, Castle Rise and Castle Pitch (which went to Capel's Mill) – The Castle was a house built in 1610; Richard Arundel lived there, early 1700s; newly fronted in 1789; enlarged by P H Fisher (local historian) who lived there 1809 to 1873
Chapel St (Old Meeting St) – Old Chapel Congregational church – demolished 1977
Church Street was originally part of The Shambles, with the 1590 market house (now Old Town Hall) on pillars in the middle. At one time it was called Lamb Lane after the Lamb Inn (now The Retreat)
Cornhill – The Cross was the site of the Cornmarket
Downfield Road – Downfield was recorded in 1640, later Downfield Farm
Eagle Mill Close – Site of Eagle Mill. Built in 19th century as a timber saw mill, became a brewery until c.1900, an electricity generating station, and in 1920 a carpet factory – which burnt down in 1954. The site was Safari Caravans in the 1970/80s. Also at one time it was a manure works.
Folly Lane used to have a folly at the top – it belonged to The Grove (now Hawkwood College), but it has been replaced by Folly House. Before Birches Drive became a road, the entrance/exit to Folly Lane was at Beeches Green (now pedestrian only)
Gannicox Road – The Gannicocks Estate was owned in the 18th century by Thomas Bond then Henry Bond, then William Knight, clothier, and at one time by the Withey family. Upper Gannicox House was originally accessed from Stratford Rd. The older Lower Gannicox House started as a cottage c. 1650, and became a mansion c. 1750
Grange View – West Grange, Upper Grange and Lower Grange were off Folly Lane.
Gunhouse Lane – Gun House was involved with guns and The Civil War
Grove Park Road – The Grove is now Hawkwood College. By 1842 the house had been badly damaged by fire and was rebuilt by William Capel. The large estate was sold in 1914, but the Capel family retained the house until 1936, when they sold it to Colonel Murray. He changed the name of the house to Hawkwood because of his admiration for Sir John Hawkwood, the colourful mercenary general active in Italy in the 14th century. After 1947 the owners started an English language school there.
Highfield Rd built by 1936
Lightpill – pill = stream that flows into a larger flow of water – probably a wharf for light goods only (Lionel Walrond)
Little Mill Court – Little Mill, situated in Lansdown, was a fulling-mill in 1755 when the property, described as the mills behind the church, was owned by Thomas Rodway, clothier, who had bought it from Thomas Sheppard
Mill Farm Drive – Paganhill Mill, a corn mill newly erected 1815, on the Ruscombe Brook. By 1936 the mill house became the farm house of Little Mill Farm until 1960s
Nursery Close (off Horns Rd) – Former nursery for Sutton garden centre
Park Rd – The park of the Field Estate
Peghouse Rise – Peghouse Farm & Peghouse Mill, formerly Piggins alias Pigghouse. The Peghouse Estate was recorded in 15th century
Reservoir Rd – by the reservoir

Rowcroft – there was a house and land called Rowcroft in Henry VIII's time
The Shambles – The site was originally occupied by John of Pridie and was known by 1600 as Pridie's Acre. In the 17th century it was known as 'the Pitching'. 'Shambles' means a slaughter-house or butchers stalls, and this is where the butchers sold their meat on tables let down from the walls – John Bond was a butcher there in 1650. Two meat cutting tables remain.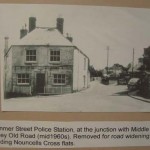 Summer Street was once known as Somers Street, from a house of that name.
P H Fisher describes it "lying in a small hollow under the bank, on the left side of its entrance", and says "the name of this street is erroneously spelled Summer-st".
I have been told that Somers House became the Police Station (now demolished) at the end of Summer Street, which was situated on the now grassed area at the junction of Summer St and Bisley Rd. It was used for some time used as a ladies hairdressers shop.
Click to enlarge picture
Station Rd – Previous Great Western Rd
In 1886 Station Road had been 'paved and channelled' so it was accepted as a public road and named Great Western Rd
Swan Lane originally referred to a Swan Inn in the High St. The current Swan Inn occupies part of the site of the old George Inn and its stables and takes its name from the Lane
Tabernacle Walk On Sunday July 1st 1739, George Whitefield preached at Whitefield's Tump on Minchinhampton Common. A young man in the crowd called Thomas Adams was so moved that he gave land to build the Tabernacle as an independent nonconformist place of worship in 1749.
Target Close – The former Target Inn was on Bisley Rd and took its name from the shooting range used by the Stroud Volunteers' militia, in the Horns Valley in the late 19th century (it closed in 1914)
Threadneedle St – after George and Henry Holloway's factory, which made clothes with newly invented sewing machines – the first to be steam-powered. More on George Holloway
Trinity Road – Holy Trinity Church, built 1839
Weyhouse Close – Weyhouse hamlet was in the Horns Valley, by the track from Crease Gate in Bowbridge Lane to The Heavens
Woodhouse Drive – A house called the Woodhouse, with an estate of c. 60 a., belonged to John Freame of Woodchester in 1610
Some names of the great and good of Stroud have been preserved
Allen Drive – Charles Peter Allen, MP for Stroud from 1900-1914 lived at Farmhill Park The tenant from 1892 to 1918 was C P Allen, MP
Arundell Mill Lane – Arundell's Mill, comprising two fulling-mills and a corn-mill in Stroud and Over Lypiatt, which John Huckvale granted c. 1585 to Richard Arundell.
Beard's Lane – there were Beards in Cainscross and Downfield in 19th century. Lodgemore Mill occupies the site of two earlier fulling mills (Merrets Mill and Nether Latemores Mill), which were both owned by the Beard family from 1675. There has been a mill here since the 1400s.
Ben Grazebrooks Well St – Benjamin Grazebrook built a reservoir near the Cross in 1769, to provide the town with water from Gainey's Well.
Bishop's Close – Michael Bishop owned the site for 50 years. He was a very well known member of the Cotswold Players. The land was inherited by the nephew of Ann Arundel (wife of James who owned the adjacent estate of The Field). Her maiden name was Bishop and she came from Tetbury. Gyde, Bishop, & Co were at Arundell Mill.
The Budding – Edwin Budding designed the first lawnmower, which was manufactured at Phoenix Iron Works, Thrupp in 1830 by John Ferrabee – see one at the Museum in the Park. Budding also invented an adjustable spanner. More information: The Budding Foundation, Mower History, Edwin Budding (1795-1846).
Capel Court 1961 – the Capel family, owned The Grove Estate for most of the eighteenth century and part of the nineteenth century. In 1710 Daniel Capel was a physician of Stroud, and his son Richard, a clothier. The Grove is now Hawkwood College. They also owned Capel Mill (which can be dated back to 1489) from before 1720 for 150 years, and also Brick House, a substantial classical-style house built c.1720, which was demolished in 1964, where Waitrose is now.
Capt Barton's Close – Captain Barton lived in Lower Woodlands in Slad Rd and used to ride his horse along Slad Road in the 1930s to 1950s. There used to be a rope walk in a factory where the Close is now.
Wilf Merrett's Streets and Shops of Stroud p108: "The Foresters Arms has long gone, and older residents will recall Captain Barton sporting a brown bowler and tweeds with a red carnation in the button hole, hitching his horse in the pub yard before seeking liquid refreshment in the bar." More
Constance Close – Selby Bros builders' merchant was in Dudbridge Road by the lower entrance to the Daniels site. Bert Constance married Miss Selby and they lived next-door to the builders' merchant. Now it is Constance Close. In the 1800s there was a brickworks there.
Cowle Rd – William Cowle bought The Field Estate and split it into building lots, donated land for the current Stroud General Hospital, and money for a museum
Cutler Road 1941 – MR F S Cutler, surveyor to the old Stroud Urban District Council in 1930s. He designed council houses and the outdoor pool at Stratford Park
Dr Newtons Way – a new bypass in the 1980s, along the course of the old Midland Railway and part of the canal. Dr Newton was a Stroud GP and ENT specialist, whose practice was The Chestnuts at the top of Hollow Lane from the 1930s to late 1960s. The Chestnuts was formerly New Lodge.
Fawkes Place – Fawkes Brothers were flour millers and corn dealers at the Town Flour Mills behind the Bedford Street church, at what is now called Fawkes Place from 1885 until 1966.
Gibson Close – Norman Gibson JP was president of the Stroud Chamber of Trade for about 5 years, retiring in 1961
Graces Field after famous Gloucestershire and England cricketer W.G Grace who played here several times. Stroud Cricket Club was here from the 1880's, until September 2010. It was founded by George Poulett Scrope – a geologist and politician – in 1850. He was MP for Stroud 1833 to1867 when Stroud had 2 MPs
Harper Road, Cashes Green – named in 1953 as a tribute to Jack Harper, the retiring councillor (also see John Harper Close)
Hillier Close is named after Councillor Jack Hillier who served on the Council for many years and he and his wife died in a car crash. Their son is Russell Hillier of Stroud Rugby fame.
Hyett Road, Cashes Green, 1928 – Hyett's field (see Moseley)
Jack Russell Close – After Stroud born England and Gloucestershire wicket keeper, who went to Archway school
John Bevan Close 1983 – after the vicar who was the inspiration for building All Saints Church, Uplands.
John Harper Close – John Harper, usually known as Jack, was a well-known builder who owned land off Cainscross Road which included gravel pits between that road and the railway line. His property bordered the grounds of the Girls' Tech (became S.H.S. Junior School when schools were merged 1964). Jack built a house for his daughter on the Cainscross Rd., and was the President of Cainscross Rugby Club.
John St, Russell St and Bedford St – see above – New streets in 1800s
Kendrick St – see above – New streets in 1800s
Libby's Drive – John Libby wrote a history of Stroud, post Fisher, and owned New Mills in Slad Road.
Lovedays Mead – The Lovedays were an old clothier family. After the Dissolution of the Monasteries, Stroudend (the southern peninsula of Painswick parish) passed from Cirencester abbey to the Loveday family, the former tenants.
Marling Crescent – The Marling family – cloth manufacturers and philanthropists – founders of Marling School
Mason Rd – was this for Fred Mason, organist at the Old Chapel, Chapel St? His journalist son, Dennis Mason, was for editor of the Stroud News and Journal, 1980-1990

Matthews Way – the Matthews family lived at Farmhill House
Moseley Road 1928 – All the centre part of Cainscross down to Dudbridge and up to Hamwell Leaze or Hyett's field once belonged to Mr. John Moseley, a woolstapler, who died in 1771. Mr Moseley, a Cainscross gentleman owned the shop where the Cainscross and Ebley Co-operative Society started on 1863. Charles Moseley Cashier of the County Bank Cainscross 1851 census
Powell's Pitch (links Bowbridge Lane with Horns Rd). Charles Powell lived at 31 Bowbridge Lane in the early 1900s and delivered oil and household goods with his horse & cart
Spillman's Pitch, Spillman's Road, Lower and Middle Spillman's – Spillmans Court derived its name from Adam Spilman, who held the estate in the late 12th century.
St Brendans' Road 1962,and Catherine's Close 1964 (both off Summer St) . These were named by the builder for children : Brendan was the builder's son who had sadly died, and baby Catherine, whose family were friends of his.
Stanton Road, Cashes Green – Stantons lived at Field Place and Upfield, Paganhill.
Stringer's Close and Stringer's Drive – Stringers Court takes its name from Michael Stringer, who bought it in 1628.
Sutton Place (Middle St) – Built on the site of Sutton's garden centre
Thompson Road 1941 – probably named after William Thompson who was editor of the Stroud Journal
Walkley Hill – There have been Walkleys in Stroud since at least the beginning of the 18th century. It is part of the old way from Minchinhampton to Dudbridge.
Wheeler's Walk – Paganhill – Ted Wheeler's Park farm
and an infamous event
Delmont Grove and Heazle Place recall the names of the two duellist during the Napoleonic Wars – Lt Benjamin Heazle (about 28 years old from Ireland, lodging at the George Inn, High St) shot Lt Joseph Francis Delmont (aged 22, lodging in King St), who died – was this due to the liniment he was accidentally given to drink? The duel took place in a field by The Grange on 14th August 1807
Fashionable names
George St and King St – see above – New streets in 1800s
Lansdown – see above – New streets in 1800s
Nelson Street – formerly Long Street; renamed after 1805; Trafalgar House and Nelson House are at the top of the street
– in the 19th century it was fashionable to name roads after places in London
Carlton Gardens – Carlton House, now the Conservative Cub.
Parliament St – formerly known in its western end as Tower Hill, then Hill St (after Margaret Hill, the first women to be elected to the former Stroud Urban District Council); and its eastern end as Hocker Hill then Silver Street (relates to stalls selling novelties) as far as Town's-end (top of Acre St). Tower House was demolished to build the Police Station. c. 1960 it all became a continuation of Parliament St.
Piccadilly
Queen's Drive and Princes Road, Cashes Green – were new roads in 1953 and needed a name – and it was year of the Coronation. Other roads also named then were Cotswold Rd, Elm Road, Moorhall Place and Harper Road
Whitehall is where the most important town houses were constructed from the 1700s on the Square Acre.
The houses 1 & 2 Whitehall were built around 1720 & others were added to it & rebuilt. Around 1860 the last houses, next to Hollow Lane were built by a Bucknall, possibly Benjamin or else his brother Alfred.
Duderstadt Close – Stroud has been linked with Duderstadt in Germany since 1951. The Stroud District is twinned with Landkreis Göttingen in Northern Germany. This partnership dates back to 1951 when the first steps were taken by youth groups in Stroud and the German town of Duderstadt. Eventually, the two towns became twinned.
More information needed on the names of
Cheapside – the Railway Company agreed in 1846 to build a road from Rowcroft to Bath Place, where there were 30 houses, which had been cut off from Russell Street by the railway. Why did they call it Cheapside – a common English street name, meaning "market place"? Was there ever a market here?
Clare Court, Bisley Old Rd – was built in the grounds of Cairngall, formerly The Coed.
Daniels Rd ? in honour of a councillor
Farr's Lane – There were Farrs in Stroud in the 18th century and it was fairly common by the 19th century,
Gibson Close ? in honour of a councillor
Spider Lane – an old route up the hill – shown as a track on Wood's map of 1835 (not named)
A research note from the SLHS digital archive added July 2015. Copyright