a research resource from Stroud Local History Society
Research note by Marion Hearfield                                                      Copyright
On the corner of Trinity Road and Whitehall a sign has been painted over – Marion wondered what it said: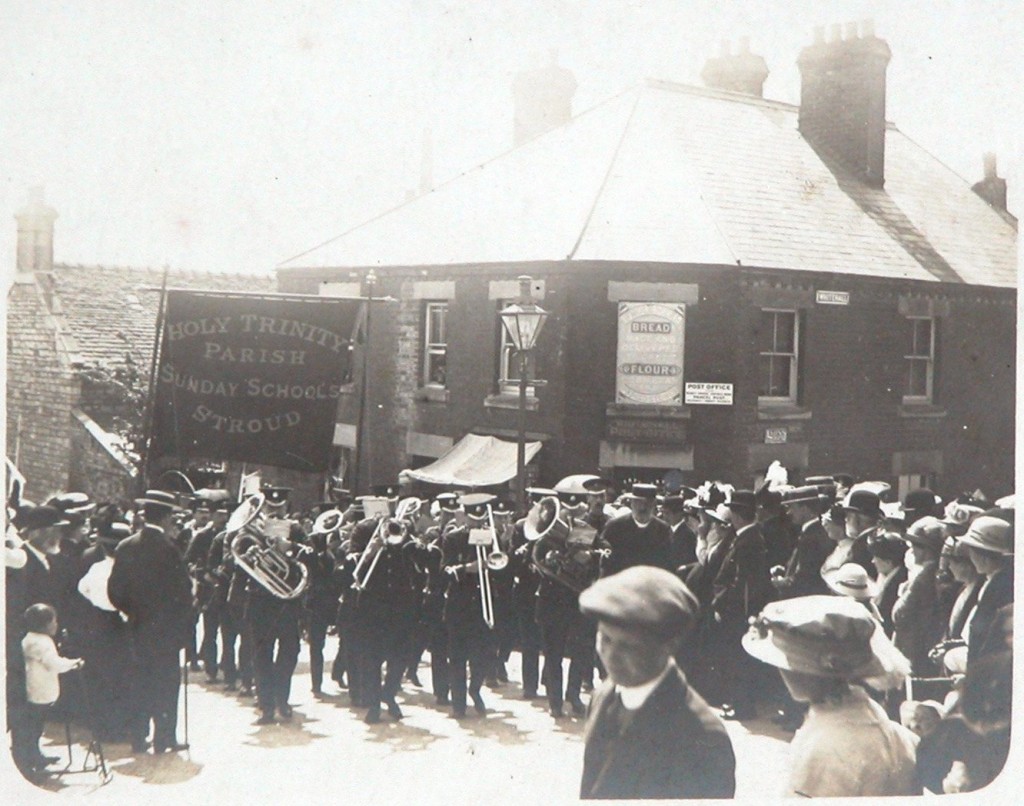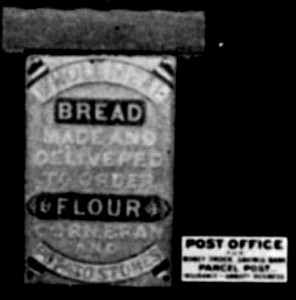 Whitehall bakery sign (digitally tweaked)
WHOLEMEAL
BREAD
MADE AND
DELIVERED
TO ORDER
FLOUR
CORN BRAN
AND
POTATO STORES
---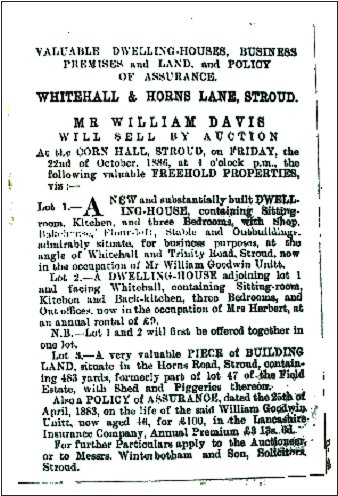 1885 trade directory: William UNITT, baker, Whitehall
1886 – the bakery and house was auctioned by the Stroud Provident Building Society to clear the bankruptcy debts of William UNITT.
Lot 1: A new and substantially built DWELLINGHOUSE, containing Sitting room, Kitchen, and three Bedrooms, with Shop, Bakehouse, Flour loft, Stable and Outbuildings, admirably situate, for business purposes, at the angle of Whitehall and Trinity Road, Stroud, now in the occupations of Mr William Goodwin Unitt.
Lot 2: A DWELLING-HOUSE adjoining lot 1 and facing Whitehall, containing Sitting-room, Kitchen and back-kitchen, three Bedrooms, and Out offices, now in the occupation of Mrs Herbert, at an annual rental of £9.
For further Particulars apply to the Auctioneer, or to Messrs Winterbotham and Son, Solicitors, Stroud.
1889-1894 trade directory: Arthur Henry BRINKWORTH, baker, No 6 Whitehall
1897-1910 trade directory: Arthur Henry BRINKWORTH, baker and post office, No 6 Whitehall (died 1910Q1)
1914 trade directory: Mrs Margaret BRINKWORTH, baker and post office, No 7 Whitehall (died 1938 aged 87)
1919-1932 trade directory: Percy Robert GODDARD, baker, sub-postmaster, Whitehall Post Office, No 6 Whitehall
1937-39 trade directory: G HARDING, baker, No 7 Whitehall
---
Harding's moved from this shop to a bakery in Cowle Road just before WW2 (no longer there)
Whitehall Sub-Post Office was at 59 Middle St until it closed in 2003
A research note from the SLHS digital archive added Apr 2016. Copyright