a research resource from Stroud Local History Society
Research note by Marion Hearfield                           Copyright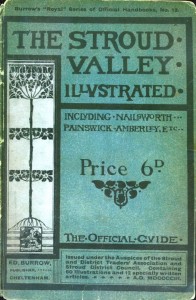 In 1903, Burrows printed its Stroud Valley Illustrated and MarionH found a very damaged copy in a second hand shop. This was the second edition – the 1902 version had proved extremely popular.
Here is a list of all the Stroud traders – and schools and churches – who advertised in 1903, and the page on which their advert can be found (there is a reprint by The History Press in Stroud library but the page numbers are slightly different!). The directory also contained articles about local geology, archaeology, driving and cycle trips, surrounding villages, flowering plants in the county, local church bells, and postcard views of streets and countryside. [addresses known from elsewhere are in blue]
If you would like to browse through the actual adverts and editorial text, you can do so using this link to where MarionH has added images from 1902 and filed them out in the internet cloud (if the advert was the same both years, it only appears once). The image titles will appear in a new tab on your browser. At the top of the list are the pages containing text, then the traders are sorted alphabetically. You can see an individual page by clicking on it.
1903 Name
Trade
Address
1903 page
Abbotsford College
school (Roxburgh House)

London Rd

126
ANTHONY T P & Co
draper; ladies' outfitter; funerals
King St 20
35
APPERLY Alfred JP
cloth manufacturer
Rodborough Court (built 1888)
136
APPERLY CURTIS
cloth mill
Dudbridge Mills
138
APPERLY HYDEA
cloth mill's sheep herd for prize-winning Hydea cloth
Hyde Farm
137
APPERLEY Rodborough Court
BAKER's Bargains
pictures; pianos and music dealer
London Rd 56
143
Baptist church
church
John St
131
BARNARD T Knight
music warehouse; tuning; colour photography
George St 05
128
BIRT George
grocer
High St 04 – 5
153
BISHOP W H
fishmonger; poulterer and fruiterer
Gloucester St 16
25
BROWNING
butcher
Gloucester St 17 (Cotswold House)
40
BRYANT John
antique dealer
George St 21
158
Cainscross brewery
brewery
Cainscross
135
CETTA J & J
jeweller; cutler; china
High St

0

6
20
CHAMBERS H G
tailor
Nelson St 10
144
CHEW T L & Sons
ironmonger; gas; steam; hot water; farming tools agent
King St 08
11
Citizen (The)
newspaper (5 editions daily)
London Rd
21
COLEY S J
chemist and photographic
High St 57
42
COLLINS Wm
printer; bookseller; bible society depot
King St 11
149
COMLEY Henry
photographer
Russell St 10
12
Congregational Chapel
church
Bedford St
130
Congregational Chapel (Old)
church

Chapel St

129
Co-operative Society
grocery; furniture; outfitter; coal merchant
Cainscross
22
COX R E
tailor
George St 03
6
DAVIS & CHAMPION
estate agent and auctioneers
Kendrick St 16
54
DICKENSON J
grocer; wines and spirits
High St 23
146
DICKINSON PROSSER & COX
coal merchant (depot at 2 Wallbridge)
Russell St
10
FARRAR Walter
confectioner; and tea room
Kendrick St 11
156
FARRAR Wm
coal merchant
Russell St
1902
FAWKES & Son
grocer
Kendrick St
1902
FORD Philip & Son
builder; undertaker; shop fitter
Slad Rd [Locking Hill]
27
GARDNER & Son
plumber and decorator
King St 06
8
GILL Frank
ironmonger; mill furnisher; ammunition
High St 15
157
GILLMAN W H
hatter; hosier; shirt and collar maker
King St Parade 03
9
Gloucester Journal
weekly (Saturday) newspaper
London Rd
21
Godsell's brewery
brewery
Salmon's Spring
142
GUILDING Walter
confectioner and pastry cook
High St 33
150
High School for Girls
school

Downfield

127
HILLIERs
butchers
Kendrick St and High St
1902
HOBBS
confectioner; wine merchant; lunch rooms
George St 24
16
Imperial Hotel
commercial hotel

Station Rd

134
JEFFERIES Samuel
brickmaker
Dudbridge and Stonehouse
1902
JOHNSON A
draper; ladies and children's outfitter and corsetier. mourning
George St 25 – 26
31
JURISH G
hairdresser
John St
1902
KITTOW & Co
draper and milliner
Russell St
1902
LAMBERT C
coal merchant
1902
MILLER A
plumber; hot water and electric fitting; cycle agent
Gloucester St 15
144
MILLS Bros & Co
grocer; tea and coffee dealer
High St 58
48
MITCHELL R
cabinet maker
1902
MORRIS J
draper
Waterlook House Nailsworth
1902
Nailsworth Cycle Works
cycle dealer
Nailsworth
1092
MIBLETT & Co
bottled water
Union St
1902
PARK Sidney B
draper; carpet and furnishing department store
King St George St
46
PARTRIDGE F H
barber
George St
1902
PEARCE H T
blacksmith
London Rd 54
30
PLESTED H
grocer
Gloucester St
1902
POWELL G Sparkes
baker (at Whitehall bakery)
Middle St 74
32
Railway Hotel
commercial hotel
Russell St 04
30
REDFERN E
draper; milliner; ladies' outfitter
George St 01 – 2
21
REDMAN George & Son
tailor; shirt maker
George St 27
50
REVELL T E & Son
bootmaker
High St 67
145
Royal George
commercial hotel; billiards
King St 01
7
SARGEANT A H
saddler
King St 15
148
SHELTON
fine art supplier; leather goods
King St 18
15
SHEPHERD A H
dressmaker; milliner
King St 16 – 17
34
SHIPWAY Alfred E
tailor
Lansdown 56
38
SKINNER
posting mews
Lansdown
1902
SMITH & Co
chemist; photographic chemicals
High St 54
36
SMITH J W
hairdresser; wig maker
King St 07
152
SPENCER J
boots and shoes
High St 09 – 10
149
STEEL & Co
printer and bookbinder
Wallbridge Works
133
STEELE G H
draper and milliner
Gloucester St 19
147
STONE Adele
photographer
London Rd 56
150
STONE's
restaurant
Gloucester St 09
158
STRANGE S M
grocer
King St 19
23
Stratford Abbey College
school
Stratford Rd
122-24
Stroud Brewery
brewery

Rowcroft

52
Stroud Journal
newspaper

Lansdown

38
Stroud Ladies' College
school
Beeches Green
125
Stroud News
newspaper (weekly Friday)
George St 14
33
Stroud Co-op
department store
Chapel St
1902
Stroud Journal
newspaper office
Lansdown
1902
Stroud Ladies College
residential school
Beeches Green
1903
Stroud News and Glos Advertiser
newspaper office
George St
Stroud Post Office
post office
Russell St
62
Stroud Provident
building society
Rowcroft 05
140
Stroud Sanitary Laundry
laundry
Ebley
13
SWANSON %amp; Co
ladies outfitter
High St/Kendrick St
1902
THOMAS J
dyer; cleaner; feather dresser
Lansdown 07
156
TOMES T F
hatter and hosier
King St 23
54
TRUSCOTT
bicycles
Russell St

12

148
TUCK Wm T
confectioner; caterer; lunch rooms
Gloucester St 20
44
TYLER A G
cabinet and furniture maker (factory at Brimscombe)
High St 48
18
WARD E T
coal merchant
Dudbridge wharf
1902
WATERMAN Ward
tailor
Lansdown 07

a

155
Wesleyan church
church
Castle St
132
WESTON Rufus J
tailor; breeches
King St Town Time
24
WILLIAMS Cornelius
butcher
High St 28
147
Wilts and Dorset Bank
bank
George St 28
59
WITHEY & WITHEY
wine merchant
High St 55
17
WOOD & ROWE
coal and builders' merchant
Cheapside
32
WORKMAN S
Temperance Hotel
Nailsworth
1902
A research note from the SLHS digital archive added May 2015. Copyright

More adverts – found in the Citizen archive