Stroud Local History Society is the local history society for Stroud in the County of Gloucestershire, UK.
Please contact us for information – join us for news, newsletters and discounts.

Normally our monthly indoor meetings, from September to April, take place at the St Laurence Church Hall, or the Old Town Hall, both in The Shambles, Stroud. In the summer we arrange visits for members.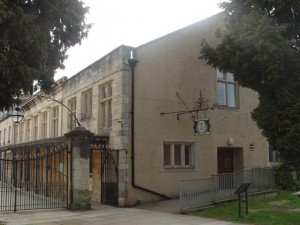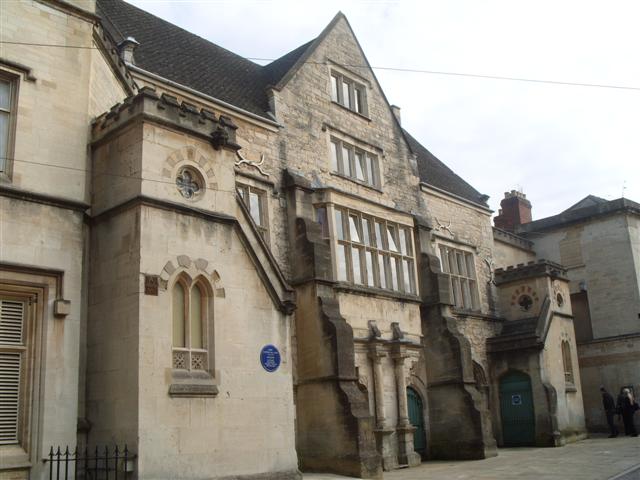 Currently we have over 100 members, and we are on Facebook and Twitter.
The menu links above tell you more about the society, our resources archive, and the wide variety of research carried out over the years by our members. Stroud People and Places Index is a good page to start.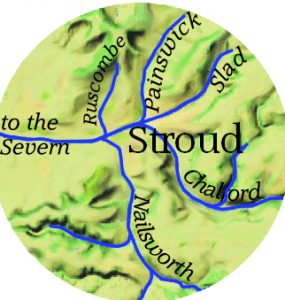 Our programme is here. Past meetings and events are described here.
Books currently for sale are here.
A walk round Stroud is here. Which are Stroud's five valleys?
News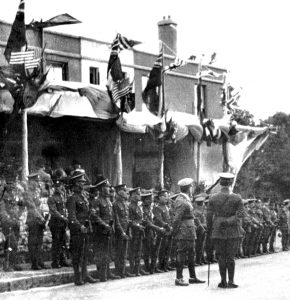 July 2022: Stroud 100 Years Ago – our annual Summer Exhibition is at the Museum in the Park Sat 16- Sun 24 July

In July 1922, Princess Alice opened the Peace Memorial Wing at Stroud General. Come to the Museum in the Park, Sat 16 – Sun 24 July, to find out what else happened that year. Stroud Local History Society's summer exhibition 'Stroud 100 Years Ago' also tells about education in the Workhouse, Stroud in 1822, takes a virtual tour around our village pubs, and celebrates earlier Jubilees and Coronations. Rolling slideshow and book sale (new and second-hand), as usual. Open during Museum hours (closed Mondays).
June 2022: Photographs of Wallbridge Mill in 1961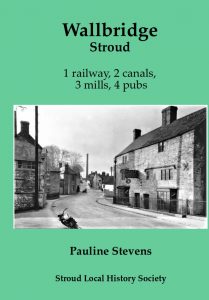 May 2022: New Book about Wallbridge
On sale at Stroud Bookshop, R&R Books, Shambles Indoor Market, Canal Trust Visitor Centre at Wallbridge and the Museum in the Park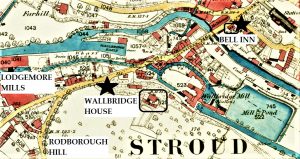 Click to enlarge. More information
Feb 2022: New pages on our website:
Sept 2021: New page on our website – Samuel Baldwin – 17th century sculptor from Stroud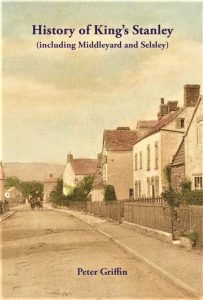 March 2021: New Book History of King's Stanley by Peter Griffin Price £15
This new History of King's Stanley, which also covers Middleyard and Selsley, is the result of decades of meticulous research.
The 400-page volume is an in-depth account of life in the village from pre-historic times to the present day.
It includes chapters on Roman evidence; the Anglo-Saxon and Medieval periods; Manor and Borough; agriculture; the cloth industry; religion; the Parish Vestry and Parish Council; population and welfare; education; law and order; politics and the military; and social life.
The book contains 69 black and white illustrations, a two-page map of the parish, and a comprehensive index.
Available from Stroud Bookshop or from www.historyofkingsstanley.org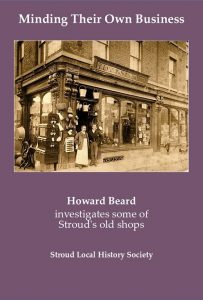 September 2020: New Book Minding Their Own Business by Howard Beard Price £10
In his new book, Howard Beard looks closely at some of the shops in Stroud's town centre and the families who ran them over a century ago – some for several generations and at least one that is still trading. With his usual story-telling skill, and using ephemera and images from his large collections (most of which have not appeared in any earlier books), Howard has discovered some surprising details, and connections between families who supplied Stroud with its everyday necessities and elegant clothes – including eleven firms run by his own relations. This book is an unexpected outcome of the 2020 lockdown, which gave Howard Beard and his editor Marion Hearfield the time to assemble a delightful collection of unfamiliar photographs of Stroud's shops and their owners, and do a bit of digging into their families' origins.
The book is on sale for £10 in local bookshops, or online from [email protected] (UK P&P £2.30)
October 2019: New free on-line version of our Stroud Town Trail, for smartphones and tablet computers
July 2019 – New booklet – Stroud Town Trail by SLHS
Apr 2019 – New page – Documents and maps for research
Mar 2019 – New book Badbrook, Merrywalks and Slad Road
July 2018 – New book Stratford Park and its Mansion House
Mar 2018 – New page Shepheard Photograph Collection
Dec 2017 – New pictures and information of Woodchester Saw Mills and Piano Works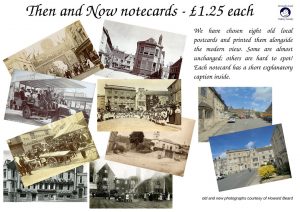 July 2017 New 'Then and Now' cards
2017: New book The Stroud Valleys in the Great War
July 2016 – New book The Old Stroud Brewery by Marion Hearfield
June 2016 –Holloway ledgers are back in Stroud
June 2016 – New book Stroud History Tour by Howard Beard
Jan 2016 – SLHS has stepped in to ensure the Digital Stroud website continues to provide an invaluable source of historical information about Stroud.
July 2015 – new acquisition – a book from Rodborough Charity School
July 2015 – new acquisition – Cainscross school archive
New book, March 2015 – Stroud Subscription Rooms – price £5 more info
New book , November 2014 – The Church by Stroud Hospital – price £5 more info
Added August 2014 – Information from the Archives of the Citizen
Added July 2014 – Virtual Town Trail with photos, so you can see Stroud and find out about some of it's history, without walking around!
Added July 2014 – a review of 30 years of events that had happened in Stroud since our first meeting in 1984.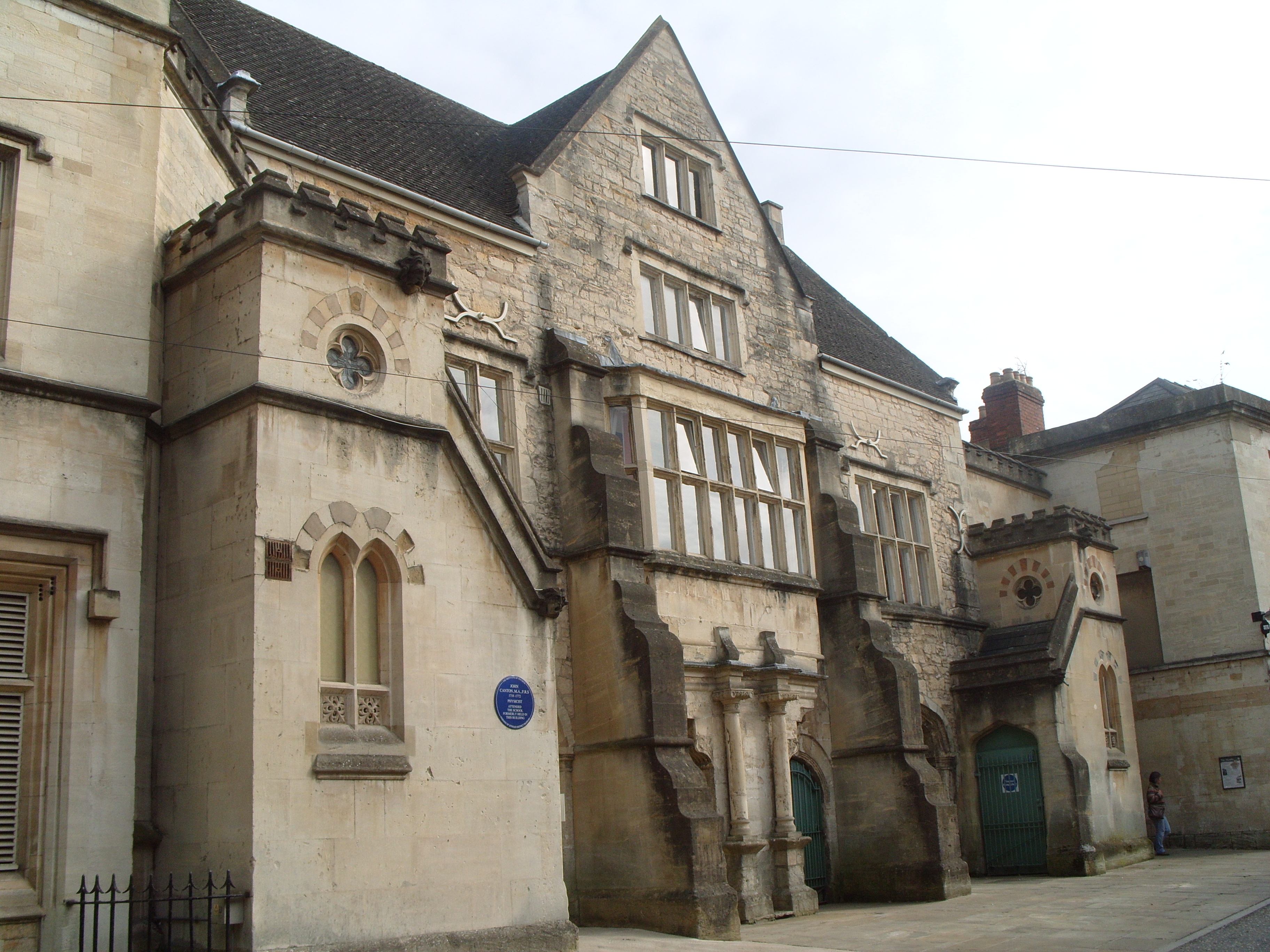 History of Stroud – very brief!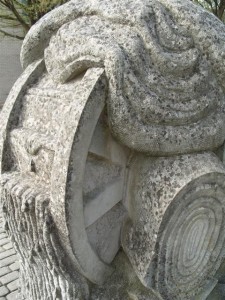 The Town of Stroud officially dates from 1304, prior to that it was part of the parish of Bisley. Stroud was granted a market charter in 1594 and the Old Town Hall in The Shambles dates from that time.
Stroud became an important centre for the woollen industry using local and imported wool, producing fine quality cloth, known internationally as 'Strouds'. Billiard cloth and the cloth for tennis balls are still produced.
The development of the industry resulted from the purity and availability of water in the network of streams from the local hills. Mills were built along the streams to utilise the water power, many of these buildings remain today, one of which still produces cloth.
Questions, suggestions and submissions are welcome – please use the contact us page