SLHS members display their research in various locations and the Society puts on at least one large exhibition a year. Here are some of the events we have organised, or been involved in:
2022 (July) SLHS Exhibition at the Museum in the Park
Stroud 100 Years Ago – In July 1922, Princess Alice opened the Peace Memorial Wing at Stroud General Hospital and we found out about other events that year. Rolling slideshows had pictures of Wallbridge and "In and around Stroud in and around 1922". There were displays about education in the Workhouse; Stroud in 1822; a Badbrook school girl's nature notes;;Jubilees and Coronations; and the village pubs were tipsy.
2021 (August) SLHS Exhibition at the Museum in the Park

2019 (September) SLHS Exhibition at the Museum in the Park
The focus of this year's exhibition was public transport, which was enhanced by the Stroud Vintage Transport and Engine Club, who provided not only two highly-detailed displays but also two visiting vintage buses. We had many visits from former bus drivers during the week, who were delighted to see their old bus station manager, Chris Blick, dressed up in his conductor's uniform, when he took a turn to steward the exhibition. A linked display looked at Stroud's early roads and turnpikes, with rolling slideshows continuing the public transport theme.
We also had "That Shop In…" with contributions from other local history groups. Howard Beard produced two displays – one showing 20 Stroud shops over time and the other a delightful exposure of his Lee family relatives in their many occupations as shopkeepers over the turn of the century. We had over 700 visitors during the week and were once again given useful additions to our research archives.
2018 (September) – Stroud in the 1860s exhibition in the Parish Church
We looked at what was happening in Stroud in the 1860s – what was here and what was yet to come – because the church presented a major new exhibition of the HISTORY OF THE PARISH CHURCH to coincide with the 150th anniversary of the opening of the rebuilt church in 1868 (the 14th century tower and spire remain).

2018 July – SLHS Summer Exhibition – Stroud in the 60s

This year our exhibition was in the Parish Church in the centre of Stroud and we went back to the 1960s. We had memories from members who recalled life in Stroud then; shop adverts and pictures, by street; schools and events. We heard a lot of " I remember that!"
Also on display were
Stratford Park and its Mansion House (and Marion's new book)
The 1940s photographs of local postmaster William Adams
Stroud between the Wars
That House in …….. (stories from the village groups)
The Stroud 700 quilt was found and exhibited; there was a rolling slideshow and a story table with files to browse; the Book stall (new and second-hand) sold well. Over 1,000 people came to see our displays, and several brought more stories and questions.
2018 (July) Sixties Night

mdeSomeone said we should have 60s music to go with the Stroud in the 1960s display, so we hired Lansdown Hall and local band The Boogie Bop Boys. It was a great night – great venue, great band and selection of songs (we knew all the words), and the audience had a great time – they sang and danced (some nifty footwork), and there were some great 60s outfits. We had 60s sweets and prizes – it was great fun!
2017 (July) – Summer Exhibition at the Museum in the Park
This year's Summer Exhibition told stories of Holloway Brothers' Clothing Company, and why George Holloway has a statue in Stroud; Schools in the Stroud district, by ten local history groups; The magnificent 1911 pageant; Everyday life in Stroud during WW1; and pioneering balloon ascents. SLHS members were available to answer questions and collect stories. Rolling slide-shows and a book sale provided the opportunity for a quiet sit down. Our books and the new 'Then and Now' cards were on sale
2016 (July) – Summer Exhibition at the Museum in the Park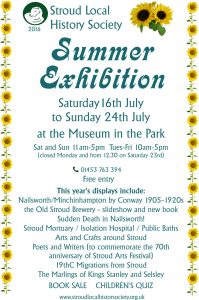 We displayed SLHS members' research into Stroud's Public Baths, isolation hospital and mortuary (Liz Wright), 19thC emigration (Marion Hearfield), the Marlings in King's Stanley and Selsley (Peter Griffin), and the Arts and Crafts movement (Jenny Bailey). Over 150 of Conway's photographs (1905-1920s) illustrated the Nailsworth/Minchinhampton area (Howard Beard) together with his sinister new tale of Sudden Death in Nailsworth. A display about local poets and writers (Sue and Barry Harrison) helped to celebrate the Stroud Arts Festival's 70th anniversary and Marion Hearfield's new book – a history of the old Stroud Brewery (written for SLHS) – was launched. A rolling slideshow about the old brewery gave visitors the opportunity to sit down and a Children's Quiz (Dave and Pauline Stevens) kept young visitors occupied. Many other members helped to steward the event during the week and answer questions. About 600 people came to browse and we were offered useful new stories and photographs.
One afternoon, our own Lionel Walrond gave an impromptu seminar on Stroud's mediaeval roads, and on another afternoon Marion Hearfield ran a workshop on reading old manuscripts. It was a busy week!
2016 (April) – Queen's 90th Birthday
Display in the Town Council Office window – Princess Elizabeth came to Stroud in 1950 (more here), and a Stroud school girl kept a scrapbook of the occasion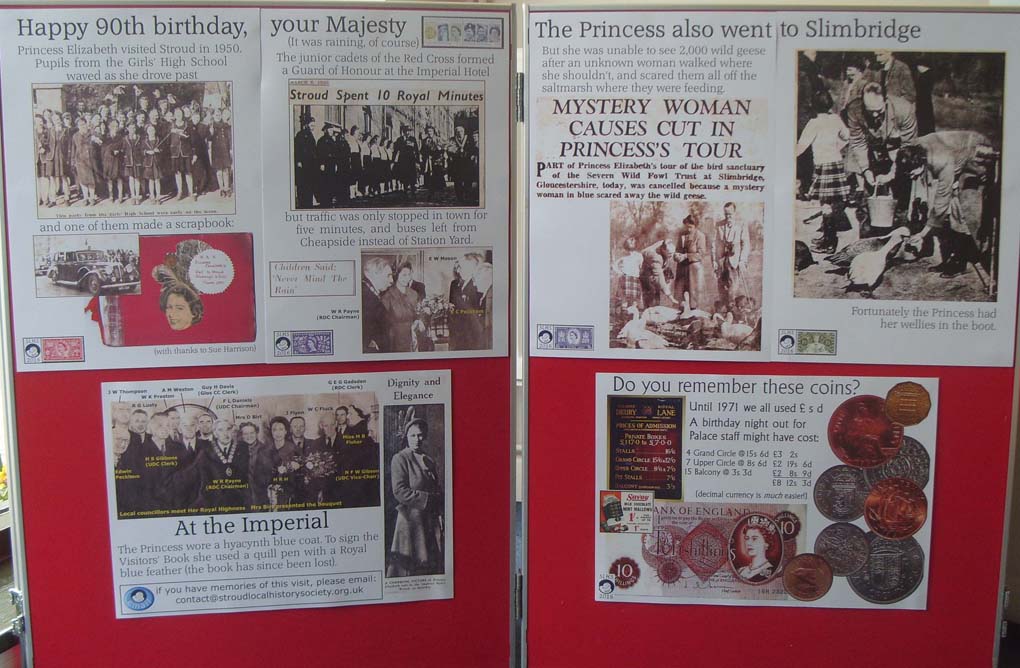 2015 (July) – Summer Exhibition at the Museum in the Park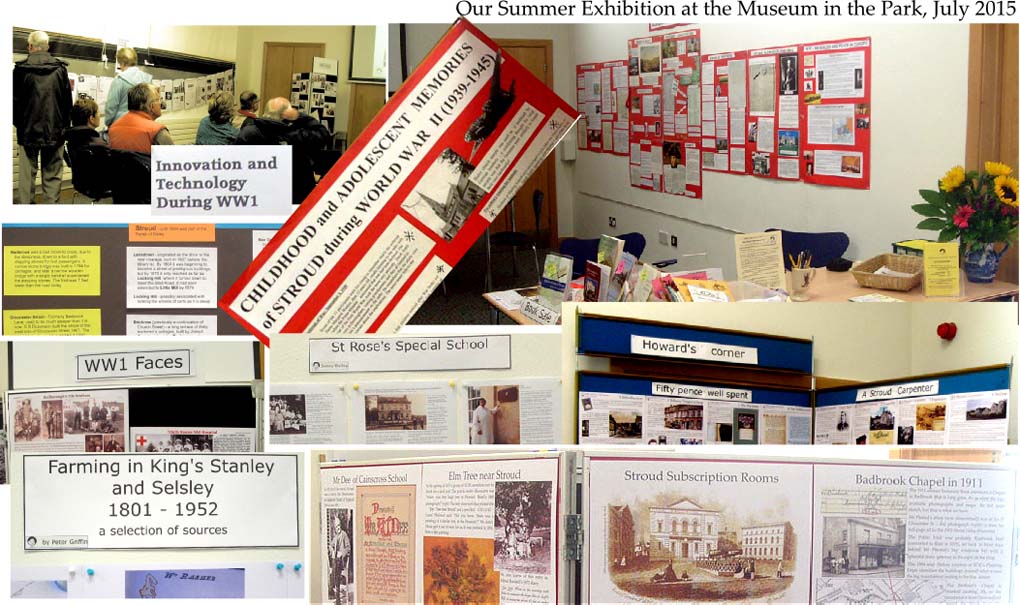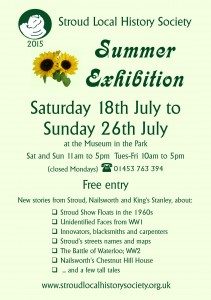 Once again, our Summer Exhibition at the Museum in the Park was a great success. We had 638 visitors during the week, quite a few of whom came back to make sure they saw everything. Fifteen members provided stewarding services between them and Our Visitors' Book quickly filled with questions, requests, offers and compliments, and many people took away our Society programme. We sold copies of the books published by the Society (and some that weren't) and featured in the local newspapers and on Radio Gloucestershire.
The exhibits were: Farming in King's Stanley by Peter Griffin, Memories of Stroud during WW2, and Gloucestershire and the Napoleonic Wars, by Sue and Barry Harrison, Streetname Origins by Pauline Stevens, the story of St Rose's by Jenny Bailey, two displays from our WW1 Home Front research by Marion Hearfield, a number of short stories and tall tales researched jointly during the past year and, in Howard's corner, three stories by Howard Beard about Chestnut Hill House, carpenter William Beard and blacksmith Henry Pearce – and a display of artefacts from the Pearce family. Howard also showed some old photographs of the town in Do You Remember…? The slideshows – especially Pauline's Town Quiz and Jenny's slides of Stroud Show Floats – were very popular and gave visitors a welcome opportunity to sit down and relax. "What riches there are in our town" said one visitor – "what an excellent and informative exhibition".
Some of the display information is on our website:
2014 (Dec) – Community Christmas Tree Festival at Stroud Parish Church of St. Laurence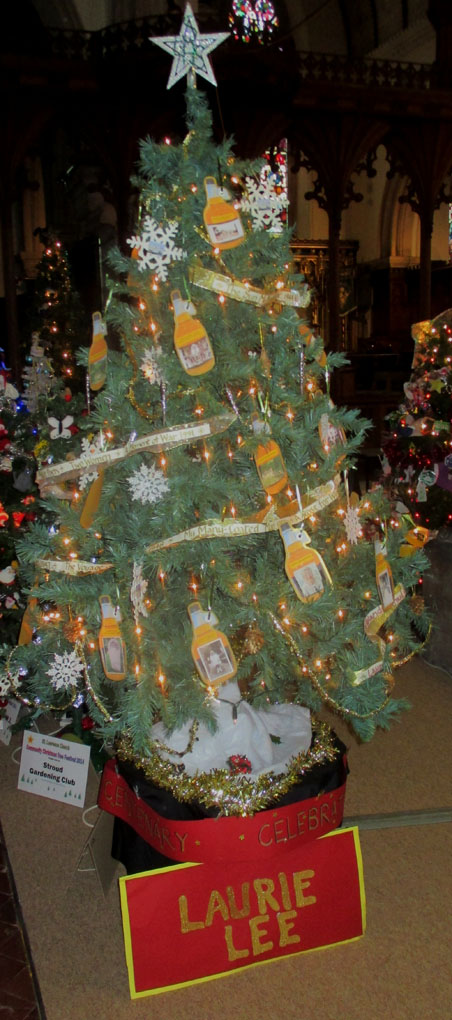 The centenary decorations, by Howard Beard and Sue Harrison,
celebrate Laurie Lee, born in 1914, with gold cider jugs carrying old photographs,
and glittering ribbons of quotations from his stories and poetry.
2014 (Nov) – 19th Century Industry (Festomane)
Members Barry Harrison and Jenny Bailey contributed material to the FESTOMANE week of exhibitions and events at the Leisure Centre and Museum in the Park.
2014 (Oct, and continuing) – Unintended Consequences (GLHA and County Libraries)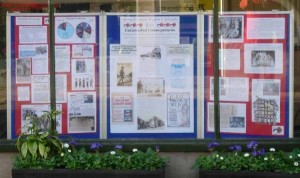 This exhibition is the first that has resulted from our ongoing research project into the lives of the townsfolk during the Great War. The full display was launched at the GLHA exhibition at Pate's Grammar School in October 2014. Then a selection went to Stroud and Nailsworth libraries, and another small part to the Stroud Town Council window in January 2015 (photo left).
The Home Front research topic for 2015 is Innovation and Technology; more on our project page here: Link to Home Front Project
2014 (July) – 30th Anniversary exhibition at The Museum In The Park, Stroud
This year we packed Gallery 2 with displays by present and past members covering subjects as varied as holidays and workhouses. Following the success of the 2013 exhibition the Museum staff suggested that this year we extend the exhibition beyond Stroud Show weekend, and we had over 500 visitors in the 8 days.


WALL DISPLAYS: Laurie Lee (centenary year), Lypiatt Park and Lynn Chadwick, Summer Street community, Round and About Stroud, Holidays and Outings, Stroud's cinemas, Local Events, Peckham's photos, Empire Day, Bridging Cultures, Writing for Pleasure, People, Cotswold Poets, Joys of Steam and Railways, New Mills, Stroud in 1951, Thomas Hughes, Brick Row, Social Housing, Workhouse, Almshouses, Victorian Stroud and The Field estate, Past Visitors to Stroud, Stroud Schools, Canals, Uplands community, Wood workers, Non-Conformists and their chapels
SLIDE-SHOWS: Was it really 30 years ago? / Subscription Rooms – the first 90 years / Stroll round Stroud in 1937 / Domestic life in Victorian Stroud
July 2013 'STROUD ON SHOW THROUGH TIME' EXHIBITION at The Museum in the Park
Stroud Local History Society linked in with Stroud Country Show in July by mounting an exhibition of past and present projects undertaken by society members. The exhibition was a collaboration of SLHS with the Museum in The Park. Displays were varied. Jenny Bailey's contribution included a survey of the Summer Street district of Stroud, its history and the story of its community life; also a study of immigration into the area by people of eastern European descent. Susan and Barry Harrison covered Sport in Gloucestershire through the centuries, local connections with the Napoleonic Wars, Railway Reminiscences and the Uplands, Stroud. Barry also had a display about 'The Man who took Stroud's Temperatures' and his research into Thomas Hughes (1742-1813) who was born in Dursley. Thomas Hughes was an apothecary and surgeon who moved to Stroud in 1771, and who kept detailed weather records up to the year of his death in 1813. His weather diaries provide a major contribution to what is known about the climate of the late 18th century.
Marion Hearfield contributed to the exhibition with material concerning the major research project she and Tony Macer have carried out into the history of William Cowle, a nineteenth century benefactor of Stroud, whose life, business interests, pastimes and property developments in the upper part of the town, are the subject of a new book (on sale through our own website). Her October exhibition 'The Cowle Legacy' was repeated at Stroud library in December, and at Glos Archives in April/May 2014. There is a link to the research, and to the online archive, on her website pages at www.johnhearfield.com
Howard Beard displayed project work, mostly based around early photographs, of local Edwardian events such as the 1907 visit of the County Agricultural Show, the great 1911 Mid-Gloucestershire Historical Pageant of Progress and George V's Coronation; also pictures from a century ago of Stroud shops and street scenes, together with letterheads and humorous postcards. Around 270 people visited the exhibition which appears to have been much enjoyed.
2013 Special Houses in Gloucestershire: (GLHA annual exhibition)
Cowley, Stanton and Lypiatt; Lypiatt Park, Owners of Lypiatt Park, Lynn Chadwick
Medieval Lypiatt Manor and Historical Events; Wartime at Lypiatt 1939-45
Lypiatt park Workers; Stroud News Beveridge Plan; A New Era 20th Century
2009 Social Housing and Housing the Poor in Gloucestershire (GRCC annual exhibition)
Early Days of Social Housing; Stroud's First Workhouse
Stroud Union Workhouse 1836-1939; The Start of Council Housing
Stroud Social Housing; Prefabricated Houses; Demolition or Renovation
Social Comment in Words and Music
2008: Poets and Writers in Gloucestershire (GRCC annual exhibition)
The World about Us; Jeff Cloves; Dennis Gould; F W Winterbotham
Professor Sir Peter Henessy; Jennifer Tann
The Joys of Steam; Rev W Awdry; Jeptha Young; Sheila Simmonds
Writing for Pleasure; Bridging Culture; Literary Links
Earliest Poet in Gloucestershire, Robert of Gloucester; Stroud People and Places
2007 Non-Conformism in Gloucestershire (GRCC annual exhibition)
John Wesley, Founder of the Methodist Church; Together with His Brother Charles (includes Salvation Army); George Whitfield, the Great Awakener
Early Non-Conformists in Stroud; Primitive Methodists
The Old Meeting, Presbyterians & Bedford Street Congregational Church
Rodborough Tabernacle; Provoking the Puritans; The Baptist Cause
Lansdown, Stroud – Street of Morality; Pounds, Shillings and Pence
Young People and the Chapel; Sunday Schools; Past Preachers and People; Stonehouse Congregational Church; Letter of Rev B Parsons, Ebley
2006 Sport in Gloucestershire
Stroud Cricket and Jack Russell
Show Jumping; Brick and Rolling Pin Throwing; Boxing; Ballooning
Cockfighting; On Foot; Golf; Billiards; Badminton; Soccer; Rugby
Swimming and Water Sports; A Sporting Gentleman; Gloucestershire Olympians
2006 Brunel 200
Isambard Kingdom Brunel – born 200 years ago – Exhibition about the Railway and its effects on Stroud
We worked for The GWR; We lived by the Railway; Railway Children
We travelled on the Rail car; Railway Workers 1861-1901
The pleasure of Travelling by Steam; Stroud Station – Steaming with Activity
The Ups and Downs of the Swindon-Gloucester Line
The Old Engines; The Railway Porter (Music sheet); Major Funders
2005 Gloucestershire in the Napoleonic Wars (GRCC annual exhibition)
Trafalgar – Locals Take Part; Gloucestershire Militia; A Band of Brothers
Captain Alexander Ball; Recruiting for War – Duel; Stroud Scarlet
Dressed to Kill; Charity; Poor Relief
2004: Stroud 700
Exhibition celebrating Stroud beginnings and as a separate community since 1304 (many local societies took part). The Stroud 700 Wall hangings are in Old Town Hall, The Shambles.
2003: Gloucestershire and Slavery
Freedom for Slaves; Music and Words; Arch, Modern Slavery
1994: Stroud 400 – 1594-1994
Stroud was granted a Market Charter in 1594 – The Stroud 400 Wall hangings are in Old Town Hall, The Shambles. (Many local societies took part).