a research resource from Stroud Local History Society
Research note by Marion Hearfield Copyright
On this page
The Austral Garage (Red Bus Company, later Red & White)
National Bus Company
Dudbridge bus depot
Grey's Bus Company
More Information
The Stroud Valleys website http://stroudvalleys.co.uk/history.htm gives a brief summary of the town's early bus companies but in December 2014 two quite separate enquiries set us researching again.
The enquiries came from David and Lee.
Here are the results of our subsequent correspondence:
The Austral Garage (Red Bus Company, later Red&White)
Red Bus Services – Owner Nick Reyne – Austral Garages, Lansdown
In The Music in our Lives (self-published by Zoura Chambers; copy in Stroud Local Studies room), Miss Chambers describes how she was asked by Nick Reyne to help his wife out in the new Red Bus company offices in Lansdown (I have read that his company logo on all the buses was a flying kangaroo, a sign of his Australian birth and subsequent flying career here during WW1). I cannot find an illustration anywhere, except that the same image is now used by the Quantas airline! MH)
"Not long afterwards, Mr N D Reyne, an Australian, and owner of the "Red Bus Company", asked me if I could help his wife in their office during the busy month of August. When he started this business in the late 1920s [I think it was a bit earlier – the Kelly entry is in 1923. MH] he bought a cottage on the left-hand side of Lansdown and turned the four rooms into offices. He also bought some ground further along Lansdown, and several garages were built there to house his buses. All this was so near my home [at 28 Lansdown MH] so I was glad to accept his offer.
I stayed there for two years when the Company was taken over by the "Red & White Company" of Chepstow, and Mr Reyne became a director of this Company. Mr Leslie Grimmett, the General Manager of the "Red Bus Company" told me that the "Red & White Company" were only prepared to pay someone half the amount that I was earning, so of course I could not stay on under these conditions. He was very understanding and admitted that he did not expect me to do so."
Phone book and directory entries
1922 to 1928 phone books: Stroud 184 Austral Garage, Motor Engineers, Lansdown
1923 and 1927 directories: Austral Garage (N D Reyne proprietor), Motor Engineers, Lansdown T N 184
1932 phone book: Red & White Services Ltd (Not yet in Stroud)
High St, Cinderford 96
Indai Rd, Gloucester 2137
India Rd Coach Station, Gloucester 2829
Newerne St, Lydney 134
1933 phone book: (after he had sold the Red Bus Company)
Reyne N D, Geyholm, Slad Rd Stroud 291
1939 Kelly: Red & White Services Ltd: booking office Russell St T N 184
David contributed:
I understand that N D (Dick) Reyne set up business as Red Bus Services [on Lansdown] just after National arrived in 1920.
MH: There were a number of possible sites – the SDC map below (undated – 1950s?) shows the Slad Road buildings marked Depot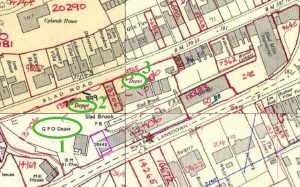 Wilf Merrett wrote (2004):
"Continuing out of town past premises that once housed a small garage and car hire concern, an old cottage stands next to the site of Little Mill, which in the 1930s housed Dick Reyne's fleet of buses. The proprietor, an Australian, unsurprisingly named his business The Austral Garage, and after his departure the premises became Bellamy's garage, in one corner of which were the dismembered remains of a Flying Flea. The Flying Flea (Pou de Ciel) was designed by Frenchman Henri Mignet as a DIY project in 1931. A tiny tandem-wing aeroplane, it could be lethan when flowen by a novice."
He pioneered several of the valleys routes, and competed fiercely with National, until Road Service Licensing in 1931 settled the combatants' various operations. All this took place against the presence of Bristol Tramways, who regarded Stroud as their territory (they had to wait until 1950 to gain ascendancy).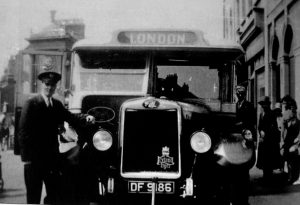 Reyne sold out to Red & White in 1933 (date unknown), and later that year a co-ordination scheme was agreed between Red & White, Western National and Bristol Tramways, apportioning the 19 routes of Red Bus. This suggests that Reyne had a substantial fleet, perhaps as many as 30 (he ran a Gloucester-Stroud- London service), so his garage would occupy quite a space. The garage remained in operation until 21 May 1950 when Bristol Tramways took over both the Western National and Red & White operations and transferred all buses to the Western National garage in London Road.
I hope one of your contacts may have a memory of it. My own memories of Stroud go back only to 1965, when I visited H&L Motorcycles at Cainscross on several rallies!
Lee contributed:
The Lansdown depot was next to" Lansdown Road Motors" car sales where now stands new houses called "Millbrook Place'.
2. National Bus Company
The National buses set off from King's Parade, where their Departures and booking office was in the shop just to the left of what is now the pedestrian access down into Merrywalks mall (once a shoe shop).
Lionel Walrond says the National garage was in Slad Road, next to the British School. This was the site used by the horse-drawn omnibuses and Lionel thinks the horses were pastured further up Slad Road, in the fields next to Little Mill.
This site is in a 1939 photograph of Stroud's dustbin lorry depot and it was later used by Stroud Council Parks and Gardens Dept (with, during the Cold War of the 1960s, a room storing cardboard coffins locked off and a state secret).
David contributed:
I have very good info that National used first a yard at the Painswick Inn for a few nights in October 1919, while their intended first location was prepared. This was at Arches 4 and 5 Wallbridge, next to Howard and Powell's Mill, and was probably chosen to replicate the setup at Chelmsford under the arches near the Station.
This served as a training base for 2 buses while licences were sought. The service to Nailsworth started on 19 December 1919, and operations moved to a more permanent site at Slad Road, Locking Hill (possibly on 1 January 1920), where they remained until moving to the Brick House, London Road in February 1927, which served Western National, Bristol Tramways, Bristol Omnibus and Cheltenham & Gloucester until the move to Bowbridge in December 1992.
Incidentally, on the 1920 map, the large building on the corner of Slad Road and Locking Hill was the National garage, which closed 1927.
1920 phone book: Stroud 163 National Omnibus & Transport Co Ltd 148 Locking Hill
1926 Stroud and Mid-Glos: National Omnibus and Transpoort Co Ltd, Badbrook
1927 Town & Country: National (The) Omnibus & Transport Co Ltd (Frank A Wood, local manager) 148 Locking Hill T N 163
1933 phone book: Western National Omnibus Co Ltd 8A George St Stroud 163
1939 Kelly: Western National Omnibus Co Ltd (Edgar Flowers, lvoal mangr.) 8A George St. Stroud 163
3. Dudbridge bus depot
Lee had written:
"The depot was in use from 1933 till Bristol Omnibus (actually Bristol Tramways at that time) took over and soon stopped using it 1950ish. Someone else thinks it was where Sainsbury's car park is now in Selsley Hill and old maps do show "depot" there."
This was a mystery. Even the Conservation Officer at Stroud District Council, can find no specific mention of it. However, in the SDC's Conservation Statement there is a useful photograph: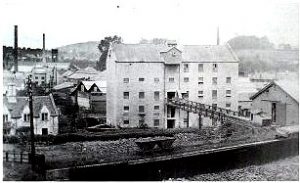 David suggests that the double-gabled large structure on the far side of Kimmins Mill could be the bus garage and depot,
and Lee sent the photograph for which his original quotation was a caption: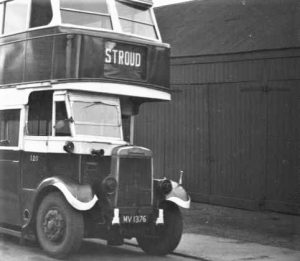 4. Greys of Minchinhampton
When the war finished, Mr J Merrett bought one of the army's Ford 'T' lorries and converted it to a bus – with solid tyres and entry at the back. This was the start of his Grey Motors bus company and he ran a service from Minchinhampton to Nailsworth, Avening and Tetbury.
5. More information
Local books:
Stroud Road and Rail in Old Photographs, Gardiner and Padin, pub Alan Sutton 1987 (a whole chapter describes the 1920s-1930s competition, with many photos)
Gloucestershire Buses to 1945 by Colin Martin, pub Tempus 2000 (pp 105-110 have a good summary)
Anzacs Over England by Dave Goodland and Alan Vaughan 1992 pub Alan Sutton (Stroud Library 940.44GOO) describes says the Red Bus Co was started by AFC Sgt Nick Reyne who married Miriam Bassett from Ebley and stayed on.
Music in our Lives by Zoura Chambers (see Austral Garages below)
Strouds Streets and Shops by Wilf Merrett (see Austral Garages below)
A research note from the SLHS digital archive added April 2020. Copyright

Back to top