a research resource from Stroud Local History Society
Research note by Marion Hearfield                           Copyright
In March 2014, the archives of the School of Art were inventoried by Mike Farmer, until recently one of the Stroud College Governors. They included comittee notes on the setting up of the original Schools (a successor to the Stroud Institute), early prospectuses, and a complete ledger of Science class students. After allowing time for museum staff and SLHS members Tony Macer and Marion Hearfield to photograph the papers we were interested in, the collection – from 1860 to the early 1900s – was deposited at Gloucestershire Archives.
One of the architects for the School of Art was William Henry Cox Fisher, who had earlier advised William Cowle on the layout and infrastructure for the development of The Field estate. They became friends and, later, Fisher was one of Cowle's executors.
The School of Art had started in 1860 in a room above No 58 High Street, and it soon became clear that the space was not big enough. By the 1870s the Art Master there was a Devon man called William Broad. First he lived in Middle Street and later – when Cowle's new suburb started to take shape, he rented one of the big new villas in Bisley Road. Which happens to be where SLHS member Marion lives.
Fisher asked Broad for advice on designing the new drawing studios for the Lansdown building, and the Stroud College archive included this letter (dated Aug 1882):
and, eighteen months years later, a postcard: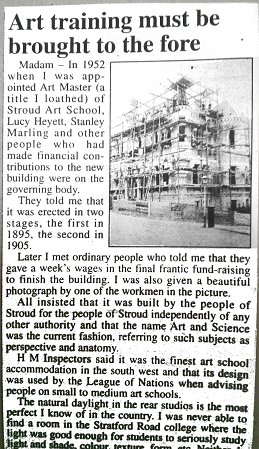 This sketch had profound consequences, as can be seen from the (undated) newspaper cutting, found later by Mike Farmer. It is good to know that William Fisher's design, based on William Broad's sketch, were used by the League of Nations as an example of best practice. These must be the windows still visible at the back of the building in this approx. 1920s photo, and 2014 photograph by Pauline Stevens.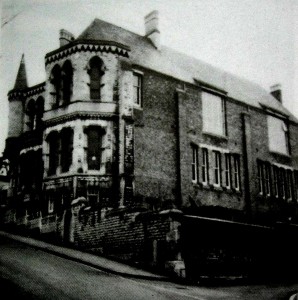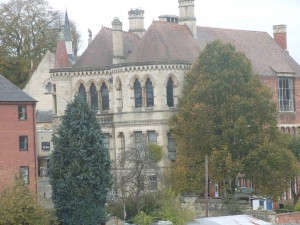 The corner under scaffolding in the newspaper cutting was only built because William Cowle had dearly wanted the town to have a Science Institute but this had not happened by the time he died in December 1899. So he left a bequest of £4,000 and instructions to his executors to make sure it happened. William Fisher – in his capacity as executor – arranged for £2,000 of the bequest to be used to complete the Lansdown building, which opened in its familiar, complete form in 1905, on condition that a science museum would be housed there. Which duly happened.
The Cowle Museum moved to Stratford Park in 2001. Marion's five-year research project about William Cowle and his development of The Field estate is described on her website at www.johnhearfield.com
A research note from the SLHS digital archive added May 2015.         Copyright